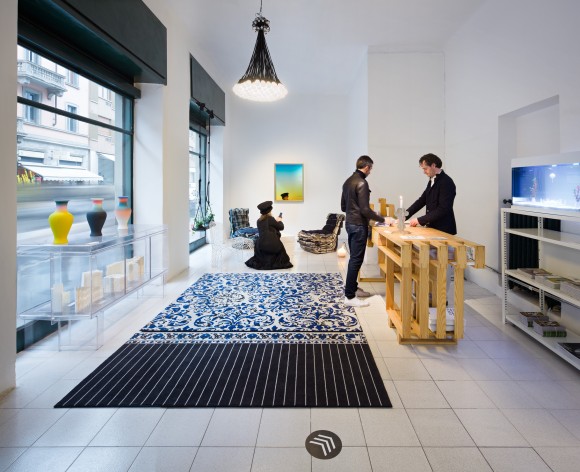 Hello,
We are back in Amsterdam. After a week in Milan, full of hectic moments, meetings and conversations, many congratulations and compliments, not to mention a lot of inspiration. There was no better place to celebrate our 20th birthday.
The photos of our installations, made by Thijs Wolzak are now ready. They give a good insight in the past, present and future of Droog. Respect for the existing has always been with us and it still is today. You could see this in the products we presented at our first show in Milan, in 1993, like the Rag chair by Tejo Remy. Two of these chairs stood in our reception this week. More recently, UP is an on-going initiative focused on redesigning dead stock to bring it back in circulation. We copied China with the project The New Original. Copying is a less obvious way of respecting the existing, while it is also a way of creating something new. The same mentality resulted in new high tech manifestations of the Rijksmuseum historical collection that we hacked. They are parts of the same story – design does not have to start from square one.
The pictures also show how a stylish presentation and cheerful interaction can go hand in hand. Next to the serene setting of the Rijksmuseum interpretations, our staff was preparing tattoos for the visitors. We brought together ideas, prototypes, ready-made products and a whole new collection. People were eager to buy the things we offered in our pop up store but at the same time they were engaged by the video's on show. The message we wanted to evoke is that beauty and responsibility are no opposites. We respect the past, but we're also interested in future projections. They are no contrasts but part of the same story, they are our DNA in which the twist always reappears, whether in the many hilarious moments in the Material Matters Media or in the aquarium with a miniature Chinese restaurant. We like bringing different worlds together, and turning things upside down. Design is a serious matter, but a serious matter can be entertaining as well.
For those who were not able to make it, I hope you enjoy the photos and videos.
Renny Ramakers