The Best Bits at Hôtel Droog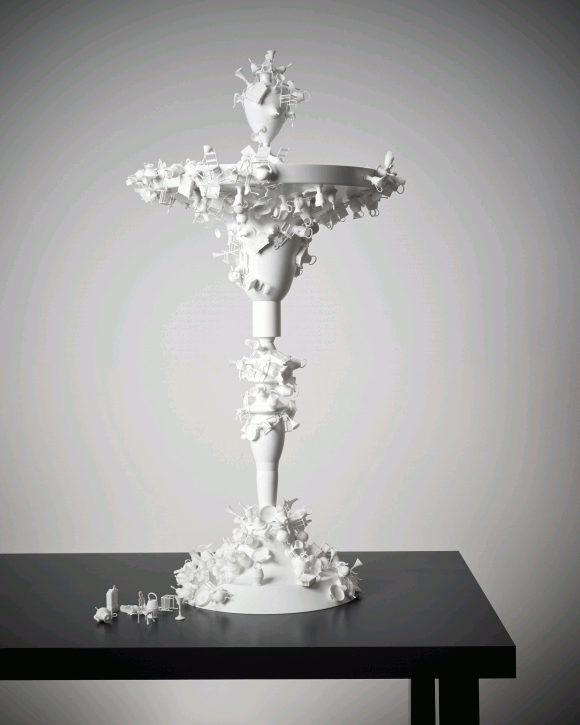 For those who couldn't make it to Milan this year, don't worry, Droog will be showcasing all of the best bits from its Milan presentation right here in the heart of Amsterdam. Come and see our latest works, collaborations and initiatives in this curated selection on display only at Hôtel Droog.
Firstly, Rijks Studio, a joint initiative with the Rijksmuseum. Century old works are reinterpreted in contemporary shapes, techniques and materials. A highlight is the famous centre piece by German silversmith Wenzel Jamnitzer, now lavishly decorated with 3-D printed magnetic miniatures of the Rijksmuseum collection. Last year, Rijksmuseum introduced Rijks Studio, a website with 125.000 digital images of the rich collection. All images are freely downloadable for personal creative use.
Secondly, The New Original. With an aim to raise discourse on the future of design, this project uses Chinese copycat culture as a framework for creating a new kind of original. By linking copying to creativity, we hope to demonstrate that the process of copying is clearly more than just mere replication—it can be a real driver of innovation.
In addition, there is the screening of two projects that inspire future design directions. In 'New Urban Luxuries' The Why Factory and Droog Lab present five future city concepts, the result of Droog's expedition to the Canadian Arctic in search of new urban luxuries. Each imaginary city is a manifestation of a quality found in this remote part of the world. With Material Matters Media, TD and Droog Lab present a series of innovative responses  to the growing problem of material scarcity by imagining future companies.
Exhibition from May 16 till June 30, 2013