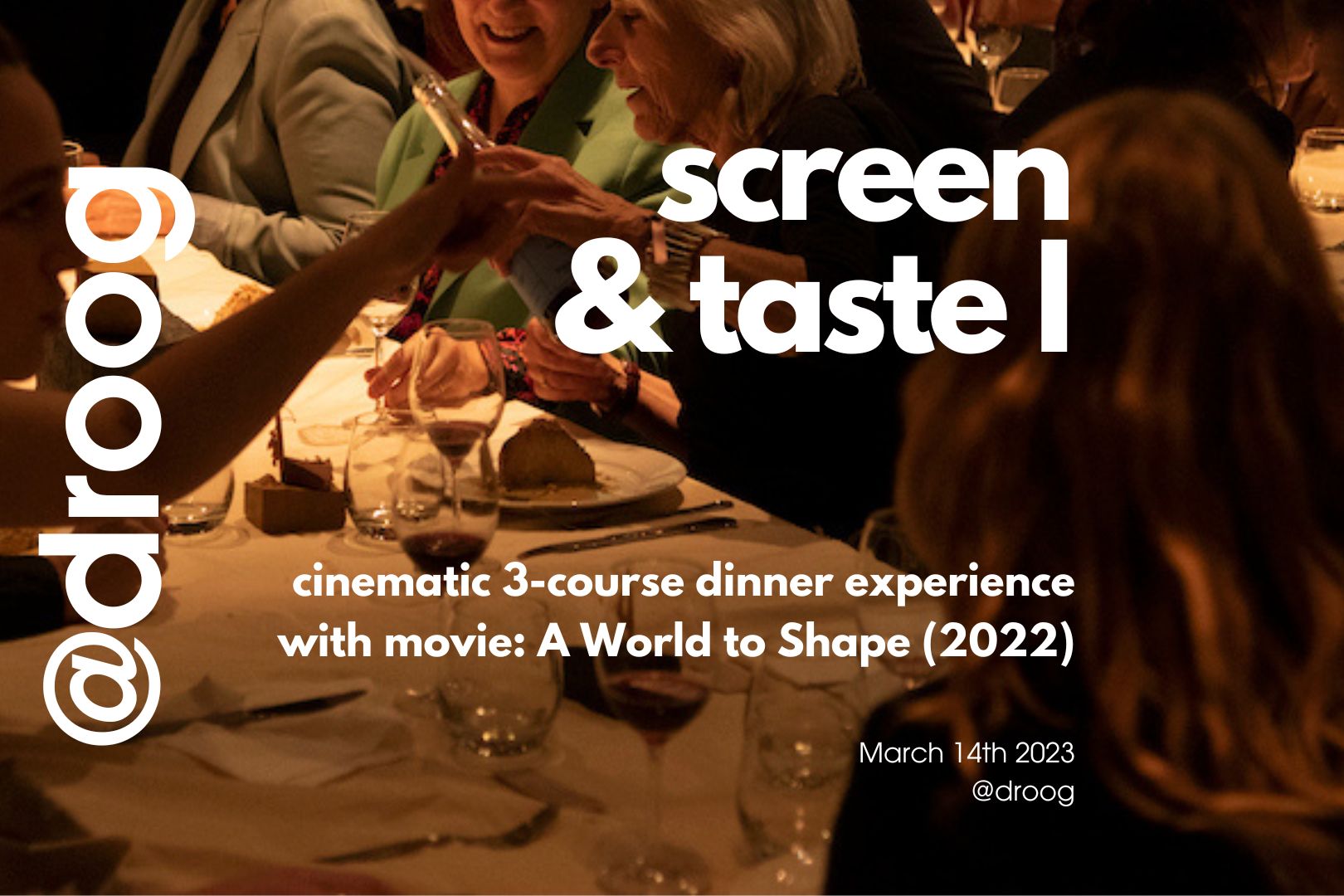 Screen & Taste I: A World to Shape *sold out*
SOLD OUT
Screen & Taste: A new monthly cinematic dinner experience.
The concept is simple yet tasteful. Together we experience watching a film with impact on society and enjoying a 3-course dinner.
Theme
The films will be curated to reflect on what makes cities alive, showcasing stories of climate crises, human connection and resilience, urban development, and design innovation. Together we have an interactive evening where our senses will be touched. The films are selected by film curator Sofia Mourato. When possible, the filmmaker will be present for a Q&A, moderated by Sofia.
Dinner
All recipes are original, created by chef Jorge Rocha and inspired by the culture and environment portrayed in the film.
The menu enhances the experience of watching A World to Shape by offering a combination of Portuguese and Dutch cuisine.
€49,50 per ticket. Including a movie and a 3-course dinner.
Drinks can be purchased separately at the bar.
The menu for this film will be vegan.
About the film: A World to Shape (2022) 
By opening the series, we introduce you to the film A World to Shape (2022), directed by Ton van Zantvoort. This film is about two of the new generation's most passionate designers, Nienke Hoogvliet (1989) and Dave Hakkens (1988), using design to tackle the world's biggest problems.
directed by Ton van Zantvoort, 52 minutes, Dutch, English subtitles
Nienke Hoogvliet (1989) and Dave Hakkens (1988) represent a new generation of contemporary Dutch Designers. This generation is acutely aware that raw materials are depleting, energy is scarce, and globalization is driving new forms of small-scale production. As makers, they don't care about existing boundaries between art, design and science.
In A World to Shape, director Ton van Zantvoort guides you through the respective ingenuity of Nienke and Dave. Though they think differently, they are set on improving the world in their own inimitable ways. Nienke's mission is to make the world's second most polluting industry – the clothing industry – more sustainable. She is currently working on sustainable applications of seaweed, such as using it to make paint.
Dave's ambition is equally ambitious. His Kamp project attempts to establish a living and working community that uses a minimal carbon footprint. He is building this community in Portugal, where he has bought nine hectares of land. He has created a blueprint for a new society and made it open source so that anyone can adopt and improve it, and the system can be used worldwide.
Where many people might see problems, Nienke and Dave envisage solutions. But how realistic are their ambitions? To find out, we join Dave and Nienke on their audacious quests.
The film is in Dutch with English subtitles. 
Watch the movie trailer
Program March 14
18:30  Walk-in – take a seat. There are some appetizers on the table in case you are hungry
19:00  Introduction by Sofia Mourato, Jorge Rochazul and the filmmaker Ton van Zantvoort
19:15  First section of the film
19:35  Starter
19:55  Second section of the film
20:15  Main course
20:35  Third and last section of the film
20:55  Dessert
21:15  Q&A with filmmaker Ton van Zantvoort, moderated by Sofia Mourato
21:45  The End.
About the curators
Screen & Taste is organized by Sofia Mourato (curator) and Jorge Rocha (chef).
Special thanks to creative strategist Eric Haas.
Sofia Mourato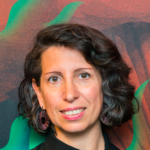 Sofia Mourato (Lisbon, Portugal) has always been inspired by how the processes of design, cinema, architecture and technology intersect. She is interested in connecting concepts and people in order to create something new at the intersection of knowledge with emotions. She appears frequently on and off stage as the former Lisbon architecture film festival founder and director, guest curator, moderator, and member of the jury at various events such as the Tallinn Architecture Biennale, the Budapest Architecture Film Days, Porto Design Biennale, Experimenta Design, AA Visiting School, One Minutes Foundation, among others. She is based in Amsterdam and works as a communication ecologist, film curator, and culture innovation agent. She also maintains her connection with the architecture film festival currently being held in Porto, as the film competition coordinator.
More info: www.arquiteturasfilmfestival.com
Jorge Rocha
Jorge Rocha is an Amsterdam-based Portuguese artist and gastronomy researcher. His artistic approach is centered on food and culture. Back in Portugal, he began a cross-functional project combining art, gastronomy, and heritage, in which he collaborated with archaeologists to build many food talk presentations in various ancient sites, resulting in two exhibitions. Since moving to Amsterdam, he has discovered a passion for fermentation, and he presently works as a Sous-Chef at Collins.
Next Up
Screen & Taste II: Thank you for the Rain – April 11th