Let the new Droog wallpaper collection decorate your walls with history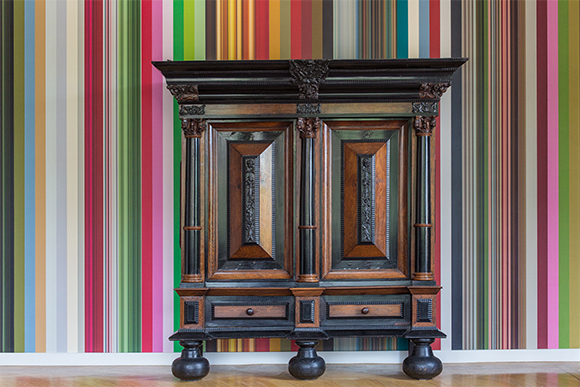 New impulse for wallpaper
Let the new Droog wallpaper collection decorate your walls with history
This fall Droog launches a unique wallpaper collection inspired by classic art works from the Rijksmuseum and Dutch church buildings. The collection entails designs by Studio Droog, and graphic designers Irma Boom and Mieke Gerritzen. Let the richness of Dutch history come to life on the walls of your own home or office.
A rich environment for minimalism
Minimalism in architecture and design has banned out wallpaper. Bare walls seemed to be the perfect environment for simple and bare furniture. It is time for a revival. It is time to give wallpaper a new impulse. Studio Droog's Pleasure Ground wallpaper, based on an 18th century tapestry by François Coppens, was designed to make a nice match with simple furniture. This was demonstrated at Rijksstudio m2, a presentation by Droog and Rijksmuseum during Salone del Mobile in Milan in April. Another great example can be found in the Library at Hôtel Droog in Amsterdam, where the walls are decorated with the floral mural "Flowers".
Rijksmuseum DNA
Hang one of 18 famous paintings from the Rijksmuseum on your wall with Colour DNA wallpaper. Irma Boom created this by using the colour palette she deveioped as part of the new house style for the reopened Rijksmuseum in 2013. She spent ten years deconstructing works of famous painters like Vermeer and Rembrandt to substract their colour DNA – the six colours that make up the painting. These colour schemes are now available as wallpaper in narrow or broad striping that you can mix and match.
Old Masters
Always wanted a Vermeer or Rembrandt on your wall? Mieke Gerritzen's Old masters offers you a wall full of famous painters. This wallpaper design creates a beautiful contemporary diagonal pattern appear from a distance.
The wallpaper collection will be available on droog.com and at the Droog Store in Amsterdam from September 2nd from 199.00 EUR (per roll/4,38 m2).