Tree of Light by Studio Droog revealed at Rijksmuseum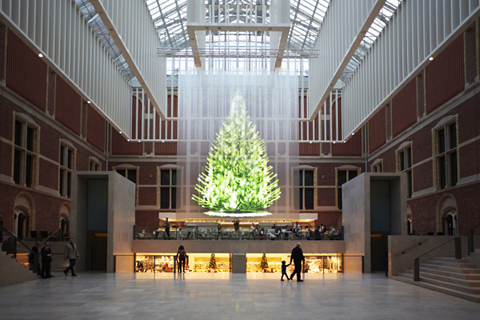 Today the Rijksmuseum revealed the Tree of Light designed by Studio Droog, the largest holographic projection of a classic Christmas tree to date. Tree of Light lifts the crowd's holiday spirits by changing shapes and colours; from blue to green, adding lights, stars and waving branches. The projection is on display until January 6th 2014.
This project is the second collaboration in digital form between Droog and the Rijksmuseum after introducing Rijksstudio last year, discovering digital options for the museum's rich collection of masterpieces.
Alongside Tree of Light, the Rijksmuseum shop offers a range of Droog products inspired by museum pieces for sale, including Table skin embroidery (tablecloth), Pleated collar (napkin ring) and Still life with flowers (tattoo).
Thank you and congratulations, Rijksmuseum!
Droog would like to thank the Rijksmuseum for the fantastic cooperation, as well as for the confidence and courage that the Rijksmuseum shows in our joint projects.  
And congratulations to Wim Pijbes on being voted Dutchmen of the year!