about
Raw mind+fulness is the second event in a series of curated experiences @ droog. This time, we will focus on debunking mindfulness and approaching it from a simple and mundane perspective. Again, we will co-create an inspiring space and focus on critical engagement with different artistic and mundane practices and objects through a multidisciplinary approach.
About Collaborators 
Uno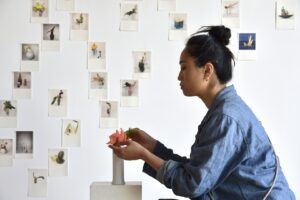 Ikebana is a traditional Japanese flower arrangement technique and philosophy. "Ikebana reflects the person who arranged it." is the basic principle of Sogetsu Ikebana. Flowers, no matter how beautiful, come from nature. In the process, we use them to create beauty guided by our feelings and intuition. Uno Fujisawa, who has Sogetsu Ikebana experience of more than 10 years, will share with us 'How to capture/ discover the beauty with Ikebana'. During her Ikebana journey, a hard lockdown happened back in 2020. Since then, she was forced to redirect her focus on using vegetables and fruits for making Ikebana, cooking and eating the materials used for Ikebana to express the concept: To feel 'life' is to feel 'connection'.  During this workshop, we will all make our own Edible Ikebana and eat together the materials which you use for making it.  We will all feel more profoundly connected after this workshop.  
Sofi 
Sofia Lee is an Amsterdam-based visual artist, photographer and linguist. Her interests lie in discovering the limits of old digital cameras and documenting their history. On the 4th of December, Sofi will present a digicam photo-booth installation, inviting guests to take a more active role in image-creation and deepen their relationship with digital photography. Her booth will feature a full digicam-to-printer setup using retro equipment. Guests are invited to approach the booth and directly engage with the digital photo creation process in all of its steps — beyond just pressing the shutter button. Guests may also bring their own digicams for prints. Prints will be available while supplies last.
Nikita
Nikita is fascinated and determined to bring not only the highest quality tea but also to infuse the experience with aspects of mindfulness. During the event, Nikita will facilitate a matcha experience in his mindfulness corner, enabling everyone to visit and have a personal moment of peace. During this process, participants will have a chance to visit Nikita and have a personal moment with him. This moment can be the moment of stillness, vulnerability, or comfort … – anything a person might need at that time. By granting ourselves this intentional time of stillness and connection, we are encouraged to give space to anything that is requiring our attention at the moment.