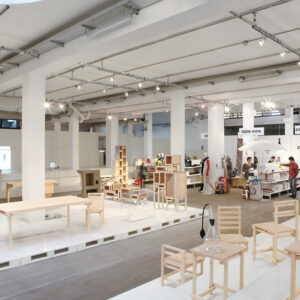 date: April 13th –17th, 2011
location: Via Alserio 22, Milan, 20159, Italy
During the Salone del Mobile in Milan in 2011, Droog presented furniture and accessories designed for download by EventArchitectuur and Minale-Maeda, including CNC cut tables, cupboards, desks, side tables, shelves, couches and 3D printed electrical outlets, flowers and charms. Droog also presented digital design tools that allow ordinary computer users to easily make functional design decisions, automatically generating blueprints for local execution in various materials. The tools also enable communication between designer and customer, streamlining and lowering the cost of a custom design process. The presented products have been customized by Droog for its collection.
At this occasion Droog presented the outcome of its Design for download investigation, announcing the coming of the first platform for downloadable design, which will feature curated and open content, easy-to-use parametric design tools and a network of local low- and high-tech manufacturers. The launch of this platform, featuring various brands and institutions alongside Droog, will occur later this year. The platform will not only include products, but also architecture, home accessories, fashion, food, wearables, inventions and more.
"Taking design to the digital realm opens many possibilities. Not only does it have consequence on transport and storage efficiencies, it also calls for new design approaches, innovative digital design tools and online shopping experiences, and innovative business models for all actors along the distribution chain," says co-founder and director of Droog, Renny Ramakers."With the opening up of the design industry to consumers now empowered with easy-toaccess and low-cost design and production tools, the role of curation becomes ever more important."
Design for download is an outcome of a project by Droog Design and Mediagilde. For this project we have collaborated with consultants Cathal McKee (CMK1), Catherine Jasserand (Ivir), Hans Lensvelt, Institute of Relevant Studies, Joris Laarman and Michiel Frackers. Digital design tools by Studio Ludens. The project has been initiated by Droog and was made possible by Agentschap NL.