Drawings by Jan Rothuizen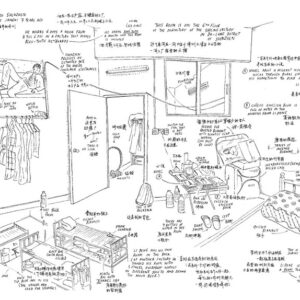 Part of the Social City exhibition at the Bi-City Biennale of Urbanism/Architecture are soft maps by artist Jan Rothuizen describing the homes, lives and desires of four Shenzhen citizens.
The drawings by Jan Rothuizen present the homes of four citizens in Shenzhen. His starting point was Mark van der Net's digital data mapping of Weibo. From this data Jan Rothuizen selected and contacted people to meet in real life. Rothuizen: "Most of them declined since it was not a business opportunity, but the people I did meet were surprisingly eager to partake and talked freely about their desires (and worries) and opened their homes to me."
He visited retired investor Yu Danqing (57), travel office employee Vivien (28), Uber taxi driver Peng Li (38) and factory worker Alan (28). Rothuizen's soft maps shed light on individual behaviours and desires, which are crucial elements to understand in urban planning. Rothuizen: "My drawings show how our ideas of what we want and what we have are two different things. I think that in order to plan what we want, we should start with what we have."
Artist Jan Rothuizen (Amsterdam) describes the world and people he encounters. His drawings or "soft maps" can be read as diagrams, maps, notes, or even novellas that portray the city life he knows and discovers. His drawings bring an ode to our environments which reflect our true attitudes, values and desires.