Humble facades: Droog & Atelier Bow-Wow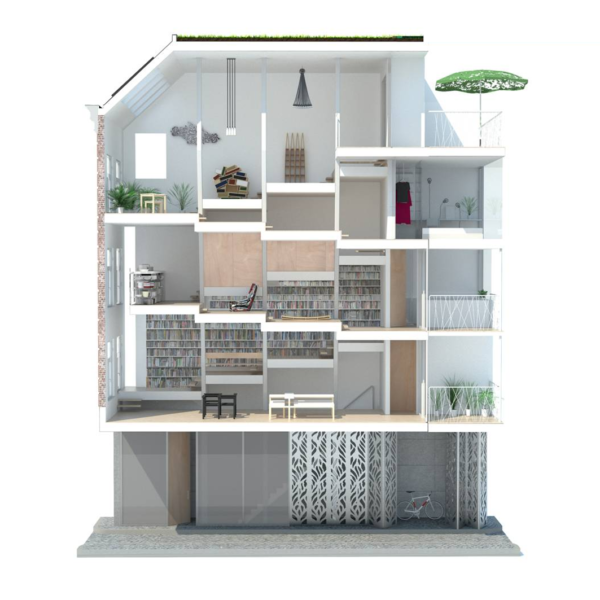 Two understated facades will conceal extraordinary interiors for living in Amsterdam—Droog New York will present the plans for Droog Townhouse and Droog Hotel by Tokyo-based Atelier Bow-Wow.
Droog Townhouse
Commissioned by Amsterdam housing association Ymere, Townhouse is Droog's first house. A modest façade conceals an extraordinary interior furnished with Droog products, such as the classic 1991 Ragchair and Milk bottle lamp by Tejo Remy, the Heat wave radiator by Joris Laarman and the Tile kitchen by Arnout Visser, Erik Jan Kwakkel, and Peter van der Jagt. Imagined for a single, a contemporary family or as a VIP guesthouse, the one-of-a-kind layout is a continuous flow of spaces, each with its own functionality merging with circulation space. Private rooms such as the master and optional guest bed, the bath, the balcony and a sound-proof refuse are separated by shared space, creating a unique combination of contact and independence, spaciousness and intimacy. For purchasing inquiries contact [email protected].
"In townhouse typology that is narrow and vertical, it is unavoidable for the staircase to dictate a layout that is clearly divided into floors and rooms. We break this by proposing a house without a staircase—instead the whole house becomes inhabitable steps. Each step performs as the place for Droog furniture and living." – Atelier Bow-Wow

Droog Hotel
Around the corner from flagship store Droog at Home in Amsterdam will soon be Home at Droog, a 10-room member-only hotel, concept restaurant and exhibition space. Leaving the canal-facing front façade intact, Atelier Bow-Wow created an intricate inner courtyard façade inspired by Amsterdam's historic architecture. The hotel restaurant will host new concept dinners by invited designers and chefs, improvising with local market left-overs and practicing the act of eating slowly yet attentively. The street level will house Droog exhibitions.
"Both projects had a similar starting point, in that they were both renovation projects, and that the street façades needed to be kept. However, Droog took each project in a completely different direction." – Atelier Bow-Wow
About Atelier Bow-Wow
Atelier Bow-Wow is a Tokyo-based firm founded by Yoshiharu Tsukamoto and Momoyo Kaijima in 1992. The pair's interest lies in diverse fields ranging from architectural design to urban research and the creation of public artworks. While on one hand the practice has designed over 20 detached houses, public museums and commercial buildings mainly in Tokyo, in recent years it has increased its projects abroad to France, Denmark and the USA. In 2009 the practice's first solo exhibition outside Japan, 'Atelier Bow-Wow / Small Case Study House' was held at the REDCAT Gallery in Los Angeles. In 2010 Atelier Bow-Wow will exhibit its works in the Japanese pavilion of the Venice Biennale and in April a monograph will be published by Rizzoli.
www.bow-wow.jp