In Praise of Diversity: Benches from Brazil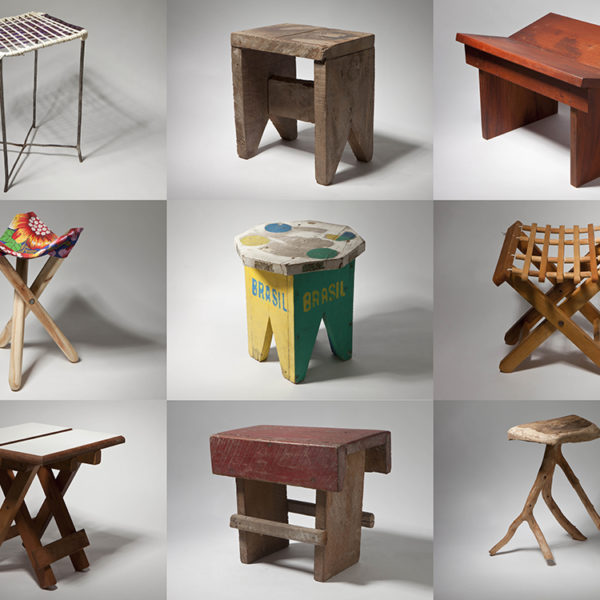 In Praise of Diversity: Benches from Brazil
September 16th – October 21st, 2012
The exhibition brings together, with no hierarchical differentiation, around 55 benches conceived by designers, artisan communities and indigenous peoples of various regions of Brazil. Diversity is the exhibition's key word. The decision to present them together, side by side, serves the purpose of exploring the idea of how the same function – to sit – can bring about totally different objects. Therefore, it may be seen that indeed form follows function, but goes even further, expressing the culture of the location where the objects are designed and produced.
The Indian benches have shapes and graphics rich in meanings that cross over generations. Carved from a single piece of wood, some mimic animals such as a jaguar, monkey, hawk or vulture, while others have clean forms as if they came straight from the Bauhaus handbooks. The benches made by illiterate craftsmen who work with materials at hand in the community where they live, often encompass valuable lessons on ergonomic comfort and proper use of raw materials.
Curator: Adélia Borges
Participants: André Fontes Torres, Association of "Aracati" Craftsmen, Association of "Arteboa" Craftsmen, Association of "Curral Grande" Craftsmen, Association of "Santa Cruz de Chapada do Norte" Craftsmen, Association of "Estação da Luz" Craftsmen, Baré, Bete Paes, Carlos Fernando Ekchardt, Carlos Motta, Claudia Moreira Salles, Fetiche, Flávia Pagotti Silva, Genival Santos, Ilse Lang Silva, Ivan Rezende, José Paraguai, Juruna, Karaja, Lui Lo Pumo, Marcelo Rosenbaum, Marcos Paulo Caldeira, Mehinako, Michel Arnoult, Nelson Schiesari, Oliva Design, Patrícia Fernandes, Patricia Naves, Pedro Useche, Rodrigo Almeida, Rodrigo Gonçalves, Rona Silva, Sabrina Arini, Sergio Mattos, Sergio Rodrigues, Severino Borges, Suyá, Tina Lo Pumo, Trumai, Tukano, Wai wai, Wajampi, Waurá, Yang da Paz Farias
Partners: Mondriaan Fund and Premsela The Netherlands Institute for Design and Fashion
Panel Discussion
September 14th, 2012
What is the language of the 21st century? Is it a landscape that is increasingly uniform or one that is increasingly diverse? Will crafts play a decisive role in creating diversity, or will digital developments with the possibilities of personal production take it over? Might digital developments enhance local cultural expression and crafts? How can diversity co-exist with the benefits of globalization and its economies of scale? In an increasingly diverse landscape, is the branding of a national design identity becoming obsolete?
On September 14th, Hotel Droog hosted a panel discussion moderated by Farid Tabarki with guests Adélia Borges (Curator), Arjo Klamer (Chair of Economics of Art and Culture, Erasmus University Rotterdam), Simone Farresin (Studio Formafantasma), Daan Roosegaarde (Studio Roosegaarde) and Tim Vermeulen (programme manager designworld, Premsela The Netherlands Institute for Design and Fashion).
The panel discussion raised many diverse opinions. Today's interest in craft can be seen as regress—as a reaction to globalization and technological and industrial progress. In this light, it is something local, genuine and tangible, and meets the need to touch things in a world that is increasingly virtual. Like biodiverity, cultural diversity—as captured through craft—also needs to be respected, and has value in itself. Meanwhile, definitions of craft are also changing. We have seen windmills, ultra functional machines, become romantic symbols embedded in our associations of landscapes and places. What once is considered technological or mechanical, eventually is accepted by our emotions and sentiments. But we shouldn't forget that technology, like craft, can also make us more human. Technology gives us the option to personalize, to share and to collaborate. Perhaps the key is not in returning to carving everything out of wood but to capture the qualities that craft can offer.