Locals in Amsterdam's Nieuw-West Choose for More Green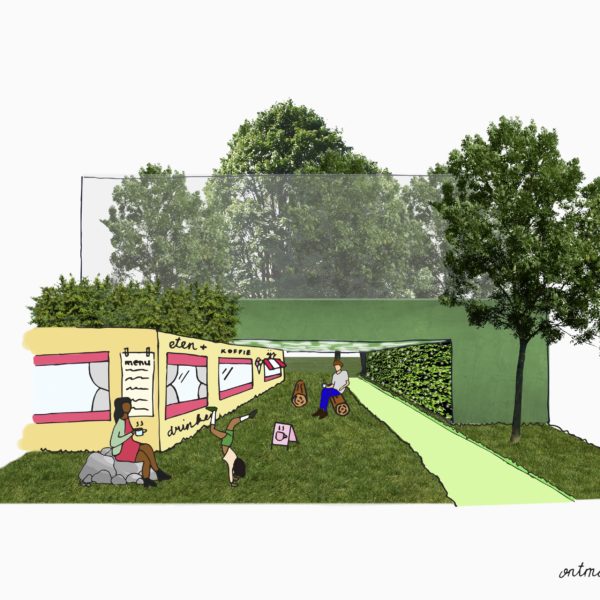 What would your street look like if you actually had your say? This is the question we posed to residents in and around the Derkinderenstraat in Amsterdam Nieuw-West. The replies varied from 'a pool in the neighborhood' to 'more diversity in shops' however one reply stuck out above the rest, the call for more 'green' around the neighborhood.
The City of Amsterdam commissioned Droog to use its' Design+Desires research and design methods for the above project aptly titled, 'Re-Dreaming the Street'. To catch the dreams of residents, we met them in a local snack bar and held a micro workshop to making t-shirts and drawing their dreams about their neighborhood on them. An overwhelming majority of the 100+ people surveyed said the area could be much greener. This is remarkable because Nieuw-West falls under the 'Westelijke Tuinsteden' or western suburbs that are considered to be some of the greenest areas in ​​Amsterdam.
A Gap between Urban Planners and Locals
The locals surveyed expressed that as their neighborhood currently looks, they think it's quite anonymous and rather boring. And in general, that the Derkinderenstraat is gloomy and the tunnel on the Anton Waldorpstraat to the Rembrandt Park is feels unsafe. People see the blind walls, empty alleys, straight edges, concrete, gray stone and dark areas all while longing for mountains, hills, color, play and rest areas and especially more 'green'. It clearly shows a gap between how urban planners and municipal facilities approach 'green' versus how citizens experience 'green'. People expressed the current 'green' as being rather useless and in fact, nobody feels personally responsible for it thus facilitating the fact that it looks deprived.
Resulting from its' research, Droog proposes to give a different meaning to the concept of green making each green area usable with a transparent function as well as to transform the now experienced as 'unsafe' tunnel into a lively passage. Click to find the full report 'Groener dan Groen'.
Renny Ramakers, Droog Director: "Residents really do know what they want in their neighborhood however their vision lacks a connection with the vision of the city government. So, a new interpretation could make a larger positive contribution to the welfare and wellbeing of residents."
Re-Dreaming the Street is the second project in Amsterdam and commissioned by the City of Amsterdam conducted by Droog and OSCity's research-and-do program Design+Desires. The first project took place in Amsterdam's Dapperbuurt (end 2016) and focused on the dreams of young people in relation to their work and leisure.