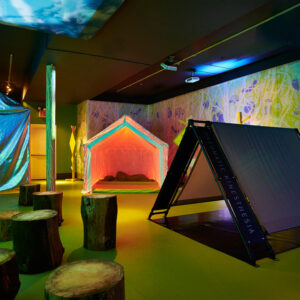 Splendor in the Grass – Droog's Kinesthetic Camping Ground sets the Museum of Sex on fire!
Droog presents their experiential sensorium Splendor in the Grass, produced under commission for the New York Museum of Sex's Kinesthesia award.
Flirting with the complexities of sexuality, the installation transforms the Museum into an immersive 'erotic camping ground'. The work intoxicates and activates visitors' visual, auditory and kinesthetic senses through the symphony of five interactive tents.
A surreal adult-playground invites guests to connect with the various phases of human sexuality. The tents are designed around our visceral relationship with nature and eroticism – ranging from a girl made from grass whispering in your ear; an ice-oven tent that warms as your basal body temperature rises; enticingly tactile gloryholes; to a steamy cloud-chamber filled with the fever of scent.
Edith Gruson of Droog explains the concept of the installation, "..here you will experience feelings which are intensified by memories of your body and nature. How does it feel to walk through wet grass, the water embracing your body…the sensation of warm and cool on your skin."
The five camping tents are designed to seduce curiosity, prompting visitors to explore the exotic thrill of arousal. Mark Snyder, Director of Exhibitions at the Museum of Sex explains; "Through our Kinesthesia Art Commission award we hope to push the boundaries of traditional Museum-going experiences and encourage patrons to appreciate physical art..expect to use your entire body when you visit Splendor in the Grass."
Whether the space harnesses movement or tactility, the physical or emotional, fantasy or reality – each contemporary bivouac will, in combination, weave together the diverse sum of sexuality.
About the Museum of Sex
The mission of the Museum of Sex (MoSex) is to preserve and present the history, evolution and cultural significance of human sexuality. Since opening in 2002, the museum has collaborated with world-renown cultural institutions, artists, and academics to create more than 20 exhibitions and three interactive programs that explore the best in current scholarship in the arts, sciences and humanities. From fine art to historical ephemera, its permanent collection is comprised of more than 15,000 sexually significant artifacts.
url: www.museumofsex.com