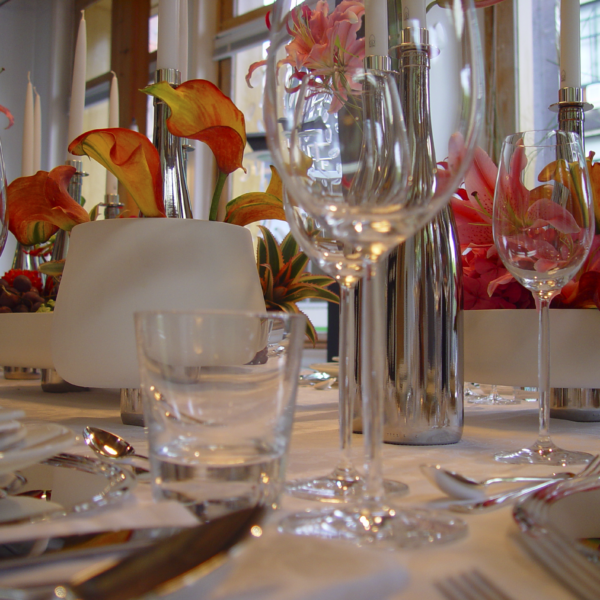 The Alsace Prefecture needed a new set of plates, dishes and ornamental table pieces for official occasions. Marcel Wanders designed the service in commission by Droog. Starting point for his design was the famous slogan 'Freedom, Equality, Brotherhood'. This resulted in a table setting in which all the individual objects play a role in connection with others, a so called Living Table.
Wanders reasoned that the slender Alsacian wine bottle symbolizes the essence of the region and used it as a base to create a range of table pieces. He made a range of hundred silver-plated Alsacian bottles with a loose candle holder on top. The bottles function as ornamental elements by themselves, but can be flower vases and candlesticks as well. They are also the core elements of table pieces that consist of white porcelain bowls. The bottles are in the middle, sticking through the bowls, and fruit or flowers can be arranged around them.

The same concept was used with the plates in a different way. The mould serves as the basis, and the amount of clay used, defines the size of the plates. The way of producing gives all three hundred plates a different shape. To be able to do so, Wanders had to develop a new kind of clay with 'De Porceleyne Fles' in Delft that has been famous for centuries because of Delft Blue earthenware. A special detail of the plates is the bottom with a texture of table cloth. It took a long time to select the right kind of textile to impregnate the porcelain and later be burnt in the kiln. It has to stand out perfectly and 'flowery' and still feel comfortable, but also be easy to clean.