Screen & Taste: A new monthly cinematic dinner experience
The concept is simple yet tasteful. Together we experience watching a film with impact on society and enjoying a 3-course dinner. Every second Tuesday of the month @droog.
Take a seat and enjoy.
Theme
The films will be curated to reflect on what makes cities alive, showcasing stories of climate crises, human connection and resilience, urban development, and design innovation. Together we have an interactive evening where our senses will be touched. The films are selected by film curator Sofia Mourato. When possible, the filmmaker will be present for a Q&A, moderated by Sofia.
"Excellent concept, the low barriers connect people. Love the living room vibes!"
– Gita

Dinner
All recipes are original, created by chef Marcus Shockley and inspired by the culture and environment portrayed in the film.
The menu enhances the experience of watching a film together and tasting delicious food.
€49,50 per ticket. This includes a movie and a 3-course dinner. Drinks can be purchased separately at the bar.
About the film: Acasa, my Home
directed by Radu Ciorniciuc, RO FI DE, 2020, 55 minutes (English subtitles)
Human Interest | Society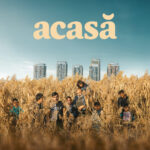 For 20 years, nine children and their parents lived in the wilderness of the Bucharest Delta, in perfect harmony with nature, until they are chased out and forced to adapt to the big city. With an empathetic and cinematic eye, filmmaker Radu Ciorniciuc offers a compelling tale of an impoverished family living on the fringes of society in Romania, fighting for acceptance and their own version of freedom.
"Heart-breaking and relevant"– Cineuropa
"An emotional journey" – Roger Ebert
"Lyrical and provocative" – The Hollywood Reporter
Watch here the movie trailer:
Awards
| | |
| --- | --- |
| World Cinema Documentary Special Jury Award for Cinematography | Sundance 2020 |
| Main Competition DOK.international Award | DOK.fest München 2020 |
| Special Jury Award | Thessaloniki Doc Fest 2020 |
| Golden Horn for the Director of the Best Film in the International Documentary Competition | Krakow Film Festival 2020 |
| Best Moral Approach Award | MakeDox 2020 |
| Special Mention Focus Competition | Zürich Film Festival 2020 |
| Human Rights Award | Sarajevo Film Festival 2020 |
| Ulysse Price for Best Documentary | Cinemed 2020 |
| EFCA Doc Award | Filem'On IFF 2020 |
| Special Mention Maysles Brothers Award for Best Documentary | Denver FF 2020 |
| Human Rights Award "Balkan Horizons" | Free Zone International Film Festival 2020 |
| Golden Key Award for Best Feature Documentary | Kasseler Dokfest 2020 |
| Best Documentary | Trieste FF 2021 |
| Cine Junior Award | Cine Junior 2021 |
| Best Documentary | Dublin International Film Festival 2021 |
| Best Documentary | Sofia International Film Festival 2021 |
| Best Cinematography | German Camera Award 2021 |
Program
18:30  Walk-in – take a seat. There are some appetizers on the table in case you are hungry.
19:00  Introduction of the concept and film by Sofia Mourato
19:10  First section of the film
19:30  Starter
19:50  Second section of the film
20:10  Short break
20:20  Main course
20:40  Third and last section of the film
21:00  Dessert – during and after the dessert, a talk will be guided by Sofia Mourato and Eric Haas.
21:45 The End.
Menu
Screen&Taste's 3-course menu is a special one. Every edition, a new menu is composed the by chef, based upon the story of the film presented. The menu is to supplement the experience of watching this specific movie. The menu is mainly vegan and sometimes vegetarian and might contain gluten and dairy.
€49,50 include movie and dinner. Excluding drinks.
Due to our time schedule, we can not take into account any allergies or dietary requirements.
About the team
Screen & Taste is organised as collaboration between Sofia Mourato (curator), Eric Haas (initiative) and @droog.
Sofia Mourato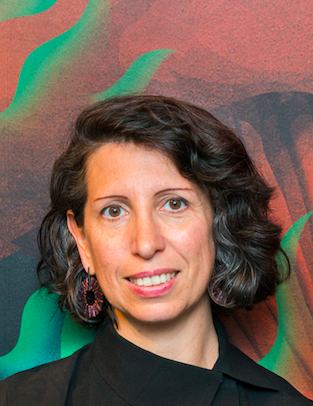 Sofia Mourato (Lisbon, Portugal) has always been inspired by how the processes of design, cinema, architecture and technology intersect. She is interested in connecting concepts and people in order to create something new at the intersection of knowledge with emotions. She appears frequently on and off stage as the former Lisbon architecture film festival founder and director, guest curator, moderator and member of the jury at various events such as the Tallinn Architecture Biennale, the Budapest Architecture Film Days, Porto Design Biennale, Experimenta Design, AA Visiting School, One Minutes Foundation, among others. She is based in Amsterdam and works as communication ecologist, film curator and culture innovation agent. She also maintains her connection with the architecture film festival currently being held in Porto, as the  film competition coordinator.
More info: www.arquiteturasfilmfestival.com\
Eric Haas
Eric Haas (August 27, 1970) is a passionate social entrepreneur, initiator, out of the box thinker, concept developer, facilitator, and interim manager. He has specific expertise in co-working, heritage redevelopment, food distribution, circular economy, and ecological building. Eric works hands-on, proactive, and has a knack for building networks/communities and developing profitable, refreshing new propositions. "Screen & Taste" (a series of exclusive film dinners) was created in 2018 in Eric's Wunderkammer in Amsterdam Oud-West, in collaboration with Sofia Mourato and Jorge Rochazul.