Photography by Dario Pequeno Paraiso
After Droog's weaving workshop in July in Sao Tome, a group of passionate locals continue to use their newly acquired skills to weave a 90m long curtain. The curtain will offer their local cultural center, Cacau the possibility to divide and open the space according to their needs.
[acx_slideshow name="Weavers 1″ width="724px" height="483px"]
For the Cacau project textile designer Nikkie Wester translated the traditional Gobrlin technique into a contemporary weaving method. Only weaving the outlines of the pattern.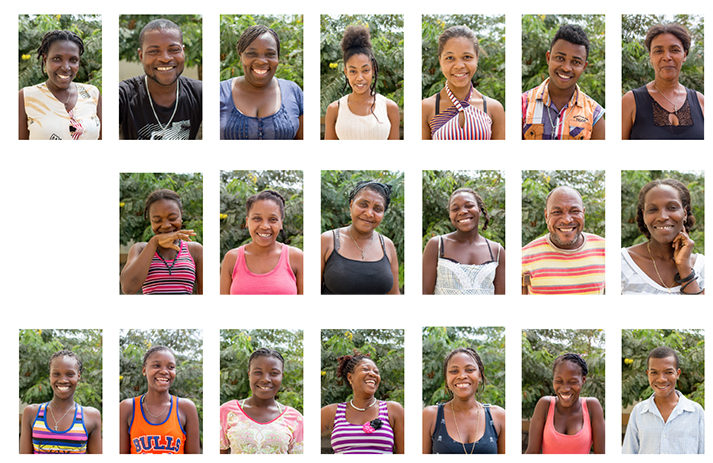 Meet the weavers of Cacau.
From left to right: Engrácia Isabel, Gualter Martinho Henrique, Alzira Medeiros, Sonia Mendes, Luisa Monteiro, Guimarley Oliveira, Angelina Cabral Cuba, Silania Pascoal Domingas, Etelvina Monteiro, Fernanda Mendes Vaz da Silva, Nilza Piedade, Eusébio Dias Fernandes, Alaize Martins Vincente, Seli Soares Martins, Nilsa Elvira, Eula Fonseco Sousa Pontes, Irodina Almeida, Marlene Soares, Cremilda Vaz da Conceição Santana, Manuel do Espírito Santo Santana
[acx_slideshow name="Weavers 2 olivia garden" width="724px" height="483px"]
This magical botanical garden belongs to São Tomé local, Olivia. Weavers of the 90m long curtain designed by Droog have been utilizing Olivia's plants as natural dyes for the curtain's fibers. We can't wait to see the results!
[acx_slideshow name="weavers 3 indige" width="724px" height="483px"]
The indigo plant is native to São Tomé however there were no current applications of indigo use as dying material on the island. The curtain will be made from local non-toxic dyes and materials found on the island of São Tomé such as banana fiber and pigments from plants and minerals.<Br><br>
[acx_slideshow name="weavers 4 meet the weavers" width="724px" height="483px"]
The weavers brought their first visit to the cultural center, where eventually the curtain will hang and construction on the building's interior will begin this winter.