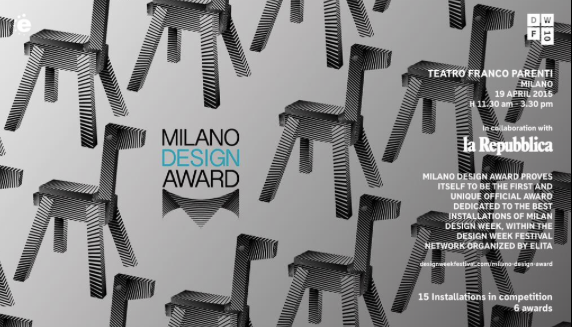 In Milan this year, Droog presented their smallest exhibition ever – and rode away with a Milano Design Award for the Construct Me! Hardware Collection.
Droog wins Milano Design Award for Best Tech
The Construct Me! Hardware Collection by Studio Droog, presented in Milan 2015, has won Best Tech for the 5th Edition Milano Design Awards 2015. Droog was among only 15 nominees for the award and picked from the 440 presentations shown during the Salone del Mobile 2015. The results were revealed Sunday 19th April, 2015 at Teatro Franco Parenti, Milan.
The jury stated that the work was commended for the originality in the choice to work on the "micro" dimension, which becomes added value without the need for spectacular effects. The project discreetly shows simple technology infused into design, through experimental and innovative products, highly technical, yet poetic.
Droog was among winners such as Lexus, Gamfratesi/Danish Art Foundation and Antonio Marris/Segno Italiano.
About the Award
Reaching it's 5th edition, the Milano Design Award is the first and unique award dedicated to the best set-ups of Milan Design Week – part of Design Week Festival and organized by Elita in partnership with La Repubblica, IED, Future Concept Lab, Casa Matera, fuorisalone.it and lovli.it.
Related video's
Learn how to screw me with this video on Droog's collection of hardware.
Renny Ramakers interviewed for Construct Me! hardware collection. See this video.