This week Bottoms up doorbell is back in stock after an improved production. We asked the designer, Peter van der Jagt about the design, which he came up with as a student at Hogeschool voor de Kunsten Arnhem.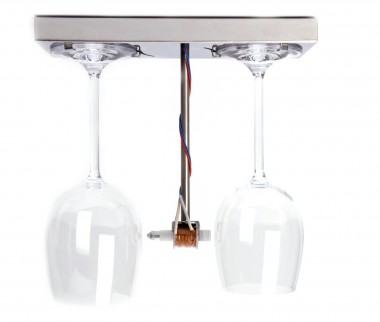 Here's what he said:
When I was studying, a strange thing happened. I actually became tired of design. And I was not the only one.
What's the use after all, when fashion creeps in? What's the use in assigning a colour when, before you know it, it is "so last year"? What's the use in designing a shape if, within two years, it reminds you of something from way back when?
We thought we had the solution: we simply didn't design anymore. We just had a good idea and prototyped it, without sketching or deciding on colour, shape or other aesthetic characteristics. The prototype thus became the product instantly. After all, if it can be made once by a student, it could be made many times by anyone, right? (Admittedly, in hindsight, this turns out to be a bit naïve).
This kind of thinking drove the design of Bottoms up doorbell. We were concerned with how the product could tell a story—not a fairy tale or a multi-layered, symbol-ridden social statement—but the story of the product itself.
What is a doorbell? Every single doorbell is a collection of electric parts that release a hammer so it hits two objects emitting a two-tone sound, in order to announce the arrival of company at the door.
Most doorbells are white plastic cubes that say nothing. Nothing about the technique, nothing about how they work, nothing about what a pleasant sound is, or how hospitality is expressed.
I designed the Bottoms up doorbell in 1994. 16 years later, the product is still current. Perhaps as a classic, but not out of nostalgia. Of course design, and the thoughts driving design have evolved, and I think for the better. Nevertheless, not wanting to design wasn't such a bad idea after all.
The Bottoms up doorbell is available here.