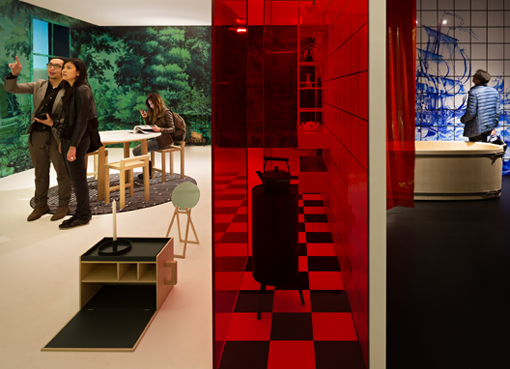 Rijksstudio m2: dressed with fantasy, a new environment for minimalism
Inspired by the rich collections of the Rijksmuseum, Droog created a setting for a studio – entrance, bedroom, kitchen, living and dining. This presentation is complemented by wallpaper that renowned graphic designer Irma Boom subtracted from works of famous painters like Vermeer and Rembrandt in the museum's collection. Additionally Droog presents new products, first on display in Milan last year, and now available to the public.  
Rijksmuseum: Rijksstudio m2
Rijksstudio m2 is a setting for a studio in which the richness of the Rijksmuseum collection resonates in walls and ceilings. 18th-century tapestry is transformed into wallpaper, a painting with birds and clouds is part of a reflective gradient wall in the bedroom and 17th-century landscape paintings are animated. The sober furniture in the space forms a sharp contrast with this elaborate treatment, but is just as much inspired by the Rijksmuseum collection. The pieces reflect the furniture as depicted in homely settings in famous paintings. A bath tub, a daybed, a writing desk, a mirror, a night stand, and a candleholder are all carefully executed in wood and leather in a new appearance. Minimalism in a new environment dressed with fantasy!
Renowned graphic designer Irma Boom created wallpaper that complements the presentation using the colour palette she developed as part of the new house style for the reopened Rijksmuseum in 2013. This so-called DNA of the Rijksmuseum is based on the highlights of the collection and is used in a variety of different visual manifestations.
Rijksmuseum: Rijksstudio m2 is supported by Heineken.
Droog products
A range of new products inspired by the Rijksmuseum collection is now available, such as glass series AA, 3D printed napkin rings and the rubber tablecloth Table skin. Droog also presents new products from The New Original series, inspired by iconic Chinese products, such as lampion lights and Tea for one and two teapots by Richard Hutten.
Join us in Milan
April 8th – 13th 2014
Tue – Sat 11.00 – 20.00 / Sun 11.00 – 19.00
Via San Gregorio 29, 20124 Milan
Public transport: Tram 1, 5 or Metro Line 1, 2, or 3