Screen & Taste: A new monthly cinematic dinner experience
The concept is simple yet tasteful. Together we experience watching a film with impact on society and enjoying a 3-course dinner. Every second Tuesday of the month @droog.
Take a seat and enjoy. 
Theme
The films will be curated to reflect on what makes cities alive, showcasing stories of climate crises, human connection and resilience, urban development, and design innovation. Together we have an interactive evening where our senses will be touched. The films are selected by film curator Sofia Mourato. When possible, the filmmaker will be present for a Q&A, moderated by Sofia.
Dinner
All recipes are original, created by chef Marcus Shockley and inspired by the culture and environment portrayed in the film.
The menu enhances the experience of watching a film together and tasting delicious food.
€49,50 per ticket. This includes a movie and a 3-course dinner. Drinks can be purchased separately at the bar.
About the film: Thank you for the Rain
directed by Julia Dahr, UK, 2017, 59 minutes
Green | Human Interest
Over the last five years Kisilu, a smallholder farmer in Kenya has used his camera to capture the life of his family, his village and the impacts of climate change. He has filmed floods, droughts and storms but also the more human costs – his kids are sent home from school when he can't pay the fees; men are moving to towns in search for jobs; and family tensions rise.
Following a storm that destroys his house Kisilu starts building a community movement of farmers fighting the impacts of extreme weather and he takes this message of hope all the way to the UN Climate Talks, in Paris, COP21. 
Here, amid the murky cut and thrust of politics at the biggest environmental show on earth, Kisilu and Norwegian filmmaker Julia Dahr's relationship takes on a remarkable twist, shedding a powerful light on the climate justice movement and the vastly different worlds they represent.

.


Watch here the movie trailer:
Awards
| | |
| --- | --- |
| Best Feature Documentary | FICMEC 2017 |
| Pangolin Power Film Award | SGEFF 2017 |
| Osiris FAO Prize | Int. FF Agrofilm 2017 |
| Jury Award | Another Way Film Festival 2017 |
| Fethi Kayaalp Grand Award | BIFED 2017 |
| Ethos Jury Prize, Best Cinematography Prize | Social Impact Media Awards 2018 |
| WWF Award | Thessaloniki Documentary Film Festival 2018 |
| Best Movie | Nuovi Sguardi 2018 |
| The Objectif d'Argent – Prize for sustainable development | Millenium International Documentary Film Festival 2018 |
| The Main Prize of the Minister of the Environment | IFF Ekofilm 2018 |
| Sim Award for Best Cinematography in a Feature | Women in Film & Television Vancouver FF 2019 |
Program
18:30  Walk-in – take a seat. There are some appetizers on the table in case you are hungry.
19:00  Introduction of the concept and film by Sofia Mourato
19:10  First section of the film
19:30  Starter
20:50  Second section of the film
20:10  Short break
20:20  Main course
20:40  Third and last section of the film
21:00  Dessert
21:30  The End.
Menu
Screen&Taste's 3-course menu is a special one. Every edition, a new menu is composed the by chef, based upon the story of the film presented. This time, you can expect a menu inspired on Kenian cuisine. The menu is mainly vegan and sometimes vegetarian and might contain gluten and dairy.
€49,50 include movie and dinner. Excluding drinks.
Due to our time schedule, we can not take into account any allergies or dietary requirements.
About the curator Sofia Mourato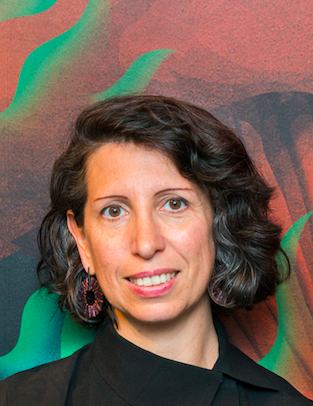 Sofia Mourato (Lisbon, Portugal) has always been inspired by how the processes of design, cinema, architecture and technology intersect. She is interested in connecting concepts and people in order to create something new at the intersection of knowledge with emotions. She appears frequently on and off stage as the former Lisbon architecture film festival founder and director, guest curator, moderator and member of the jury at various events such as the Tallinn Architecture Biennale, the Budapest Architecture Film Days, Porto Design Biennale, Experimenta Design, AA Visiting School, One Minutes Foundation, among others. She is based in Amsterdam and works as communication ecologist, film curator and culture innovation agent. She also maintains her connection with the architecture film festival currently being held in Porto, as the  film competition coordinator.
More info: www.arquiteturasfilmfestival.com\
Special thanks to Eric Haas.
Next Up