Centraal Museum Utrecht acquires 3 iconic Droog designs
Centraal Museum Utrecht acquired the Speaking Coffee machine by Eibert Draisma, Paraffin table by Timo Breumelhof and the Godogan table by Niels van Eijk & Miriam van de Lubbe from the Droog collection, to be included as part of their contemporary design collection. The Centraal Museum is known for its extremely varied and widely known collection of design.
Since the founding of Droog in 1993, the museum has collected design objects from the Droog collection almost every year. The Droog pieces are of great value to the museum collection. As the curator of applied arts and design Ida van Zijl explains: "In the first 10 years of the 21st century we experienced a typical trend in design, in which designers manufactured products that sat on the border between art and design. Droog is a very good example of a design company who created products that blurred the line between art and design". The museum boasts an extensive collection of works by Droog, ranging from design classics such as the Chest of Drawers by Tejo Remy (1991), the Tree-trunk Bench by Jurgen Bey (1999), and the Bone Chair by Joris Laarman (2006), in addition they have also acquired the complete 14 piece Saved by Droog collection from the 2009 Droog Milan presentation. In 2010 they edited the artist's proof #1 edition of the Red blue Lego chair to their collection. This piece was exhibited at Rietveld's Universe, as part of the Rietveld Year organized from October 2010 until January 2011.
The recently collected pieces will be on display at the 'Nieuwe Aanwinstenzaal' at The Centraal Museum Utrecht (date to be confirmed).
Speaking coffee maker by designer Eibert Draisma (1990)
This coffeemaker is assembled from rejected material. It includes the base of an old transformer. The coffee maker is programmed to repeat a series of pre-recorded messages, designed to alert the owner when the coffee is ready.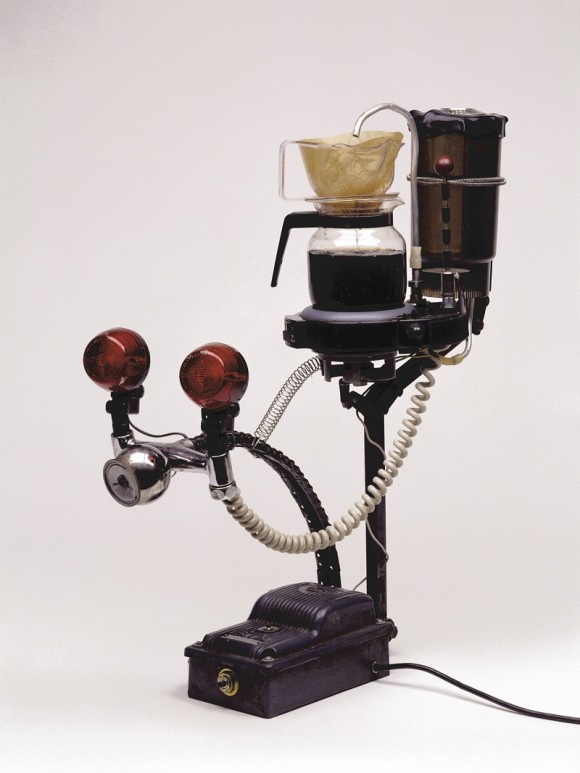 Godogan table by Niels van Eijk & Miriam van de Lubbe (2006)
The Godogan table has been (hand)made in Indonesia because of the region's high quality craftsmanship. The woodworkers were challenged to the utmost with this extremely complicated design depicting an Indonesian fairy tale. This table could not have been carved in the West, where comparable craftsmanship no longer exists.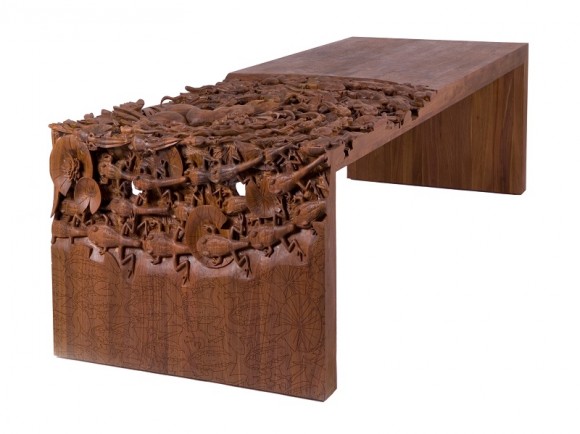 Photographer: Gerard van Hees
Paraffin table by designer Timo Breumelhof (2000)
Many products are designed for extreme ease of use or for safety. Extremely "responsible" products leave little space to the imagination or creative (mis)use, they lose their poetry. From this point of view the designer created an 'unsafe' table, this table's lack of safety considerations increases its poetical aspect; 'using' the table will destroy it.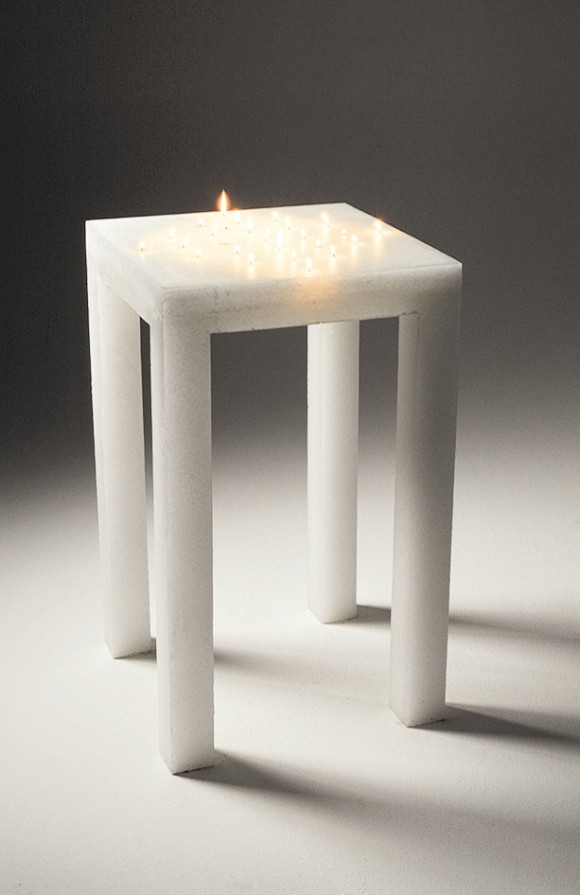 Photographer: Marsel Loermans