DAMN: More than Sandcastles
Here is the DAMN's lead on the story about design in the Middle East featuring Droog al Arab: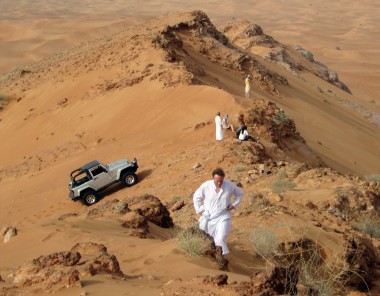 On Design and Art in the Middle East
You don't have to dust off any archive to see Dubai's quick zero-hero-alleged zero turnabout. But those with business class destination-deficiency syndrome do not dictate life and art, and as Mark Twain quipped 'reports of my death have been greatly exaggerated'. Surveying the fortunes & development of the regional art and design scenes, one resident expatriate also profiles the work of 'local' artists Rokni & Ramin Haerizadeh and Hassan Sharif.
Jurgen Bey in local attire, climbing Fossil Rock; Droog al Arab team in the background. © Photo: Katrin Greiling