NEW product: For everything there is a season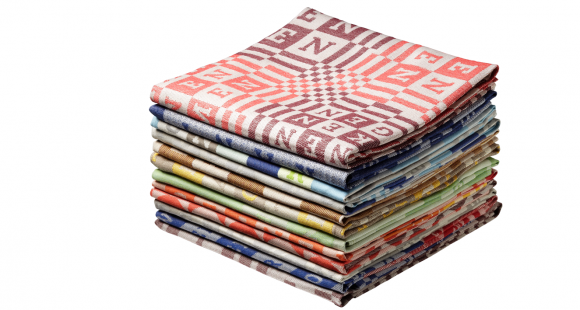 Droog releases For everything there is a season – a set of 12 tea towels by graphic designer Annelys de Vet. For everything there is a season is a series of traditional Dutch chequered tea towels, one for each month, like a calendar. The months of the year are marked with words illustrating cultural, historical or botanical characteristics of the twelve months in the Netherlands. Dutch narratives are woven between past and future…
(The design graphics are based on the 'Kalender Puttershoek' by Annelys de Vet, 2011. Courtesy SKOR and Gemeente Binnenmaas.)
Q&A with Annelys de Vet
Q: What is the idea behind this design?
Each month reflects upon cultural, historical or botanical characteristics in the Netherlands, marking the seasons of our collective narratives. On the towel of February for instance, a month in which many floods have taken place, several architectural water management devices are described. April displays its weather circumstances in a rich and poetic vocabulary. The countries in July are surprisingly the current top 20 immigration states, and the increasing amount of summer festivals taking place at sultry summer nights can be enjoyed in August. October reads the process of sugar making, which has become a slowly disappearing industry; and December memorises the international mixture of 'speculaas' spices. In this way the set as a whole reflects upon shifting identities in the Netherlands, highlighting their brightly coloured roots and avoiding stubborn cliché's. In that way this set of towels can be seen as a tool for the household to rewrite our histories.
Q: How does this design relates to your other work?
At the design-department of the Sandberg Instituut – of which I am the head – we question how design can be a 'radar' for social change. We see designers as critical agents of processes, who govern communication, reflection, understanding, debate, collaboration and cross-fertilization. As responsible professionals and dedicated enthusiasts, they can visualize new vistas and communicate through designed languages to engage with social issues. It is in this perspective that I also see my own practice. The set of towels, as well as the 'My cup of thoughts – coffee cups' for Droog and the growing series of Subjective Atlasses all reflect upon how cultural identities are constructed and deconstructed, and what it implies for our collective morals.
For everything there is a season is now available at our Droog store in Amsterdam and online at www.droog.com (worldwide shipping). There are 12 different designs available for a price of 16,50 Euro each. Coming soon to retailers worldwide.
January
Caring to help
February
Water management devices
March
Biodiversity
April
Turbulent weather conditions
May
Breeding birds
June
Reed culture
July
Top immigration countries
August
Summer festivals
September
Apple and potato harvest
October
Sugar beet campaign
November
Returning markets
December
Multicultural speculaas spices