Q&A with Christophe Coppens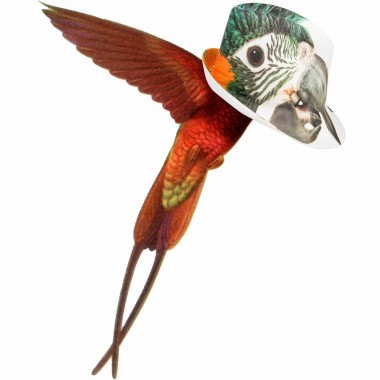 Christophe Coppens' 2010-2011 Winter collection is on view at Droog Amsterdam until October 17th and at Droog New York until September 25th.
Why is your collection about exotic birds?
In difficult times people should take over the best qualities of birds: the protection of the nest and feathers, the beauty of their colours, their freedom.
How does this collection relate to your past or future body of work?
I have always worked around the theme of protection. Accessories are often there to protect you, against the elements and against the bad bad world. As for the future, we'll see!
What influence does your role as theatre actor and director have on your work?
My education always follows me with everything I do. I cannot create without thinking of the setting, the soundtrack, the lighting…
What's next for you?
I'm in Paris next week. I'm working on hats for Manish Arora show. And much more, that is too early to talk about now.
Any thoughts about Droog?
I have always been a fan of Droog, since the beginning. They have always been very strong and consistent in everything they do. I am proud they invited me.