Q&A with designer Nikkie Wester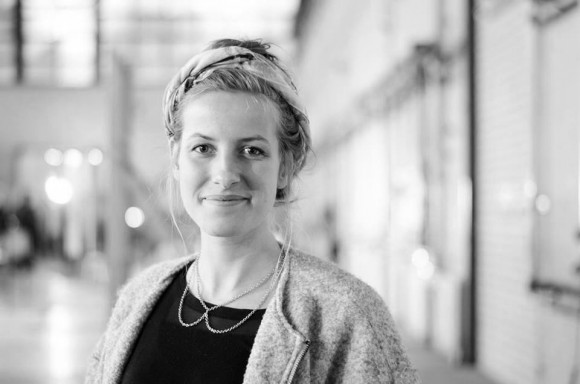 Nikkie Wester, is a Dutch textile product designer with a great passion for craftmanship and folklore. Her work always follows comprehensive research into cultural traditions, rituals and its origin, which is expressed in experiments with different textile materials. A great part of her designs infuse colour and symbolic references – and we got talked with her about her latest designs – the Fiske Fish Socks, which she designed upon learning about her own family history.  www.nikkiewester.com
Fish Socks by Nikkie Wester from Nikkie Wester on Vimeo.
You can purchase the Fiske Fish Socks at the Droog Shop at Staalstraat 7B – now open from 9am-7pm everyday.
Orange Socks (Women's Sizes): €59,95 – Sizes 36-41
Grey Sock (Men's Sizes)s: €64,95 – Sizes 41-46
—
We talk with Nikkie in an exclusive interview about her latest designs:
The Fiske Fish Socks are very playful, do you often weave play into your designs?My work has always been very conceptual, to keep it light-hearted I use humour. Without a twist, a collection can turn out to be too serious or heavy and therefore unattainable for public.
How long does it take to make a pair of Fiske fish socks?
The socks are knitted by hand, that can be a slow process though the women who do that work very quick. The can make a pair of socks in a day. I admire their knitting skills, they truly master the craft.
What is the name of the knitting technique used in the Fiske fish sock?The socks are knitted in a cable stich. This particular stich was used to make the traditional fishermen attire. By the use of this cable the textile becomes both breathable and insulating, which makes it perfectly suitable for rough weather at sea and therefore very suitable for socks to keep your feet warm
How did you develop an interest in textiles and knitting, and why does it interest you?Textile is a fascinating product because it is inseparable with humanity. It is used from the moment we are born, when we dry nurse our baby's, until death. Even then we wrap textile around our loved ones before we give them back to the earth.
What kind of textile projects excite you the most? I am fascinated with projects that require textile products that have to do with cultural heritage. This can for example be a research upon a traditional costume or a spatial design meant to unite a group of people.
Do you think the art of knitting is in decline or on the rise based on the growing tech-culture?There is always been research and development considering textile, so also on the craft of knitting. Though at the moment innovation is concentrating more on the development of materials. The century old technique of knitting is tested upon these new materials. That is the beauty of knitting. It is a technique that managed to survive the test of time. Of course this is not without a reason. The possibilities are endless and applicable on almost all materials. So I have complete confidence in the future of knitting.
Finally, the most important question, do you have inspirational pet fish that started this project?Haha, no the design is not that square. The fish socks are developed from a research upon the Dutch textile identity combined with a research upon my own family history. I wanted to make a twist to the fishery and combined it with a photo of my grandfather as a child. On the photo I drew socks with a fin at the end. That was the start of the design, although of course it was still in development. I find it very exciting that the product is now realised and put into production. That is one of the reasons I design.