"Street Life in Hong Kong"
Coming up at our branch Droog HK from October 17 to November 17: 'Street Life in Hong Kong' exhibition by renowned photographer Laurence Lai. The expo consists of twenty images reflecting on life in Hong Kong from the 1990's until now. www.laurencelaigallery.com/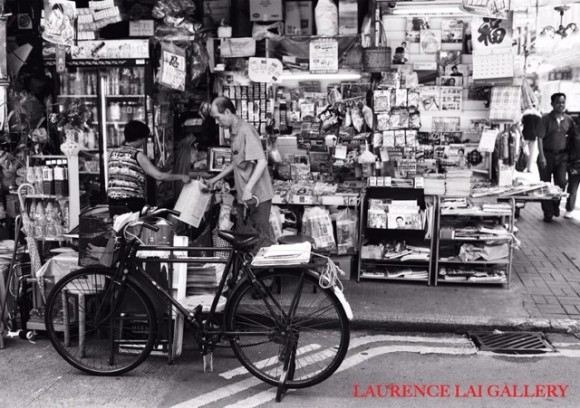 Capturing my city's cultural side and mass faces through social documentary style has long been my passion for twenty years so far! The line between work and hobby is blurred. The only thing I am certain of is the ever growing enthusiasm in this.
In this portfolio, the twenty chosen works for the exhibition are titled "Street Life in Hong Kong". The album covers various parts of the city namely Central, Sheung Wan, Wanchai, Sham Shui Po, and Mongkok. The timeframe goes back from 1990s to the recent few years. The objects include skyscrapers, pedestrians, historical buildings, and street views etc. These works truly reflected my perspectives in different periods which in term translated into various shooting styles.
At the early stage of my photographic journey, I started off with an exploratory hat, interacting with the city, reaching out to places I have never been to, taking pictures in plain and direct sense. During the years, I was a little panic as those objects taken got changed and maneuvered drastically. That literally assigned me with a new mission. That mission is to record the vanishing parts of the fast-changing city. I prefer creating some quality conversations with those I shoot. The interactions are always inspiring to me. All in all, the photographic exploration granted me valuable understanding of this city.
A causal walk on the street can tell one a lot of about the city. Look at the skyscrapers, high-intensity buildings, hassling crowd, similar shopping malls, travelers with their backpacks, and soon-to-be-torn-down old buildings. Plus, the use of electronic devices dominated the communications among people. I feel that the spirit of Mountain Lion is quietly fading away. Industries chase quick return. Operators seem unsettled. Sometime at my late night, while I was processing the black and white films, I can't help pondering the speed of change in city; I can't help missing the souls and stories stored in those images.
As a native, I passionately love this city. I hope through these images people can help enrich your understanding of the local culture. Let's reflect the past, cherish today and wish for the best tomorrow!
Laurence Lai / Li Zhaoming
Life events
1972 Born in Hong Kong
1992 Engaged merchandising work in fashion industry
1995 Engaged in Deep Shadow Photography Association
1998 Engaged in the fashion trading, wholesale and retail business
2000 Participated into Study Tour to Australia
2002 Founded Laurence Lai Gallery
2003 Opened Laurence Lai Gallery at the Peak Galleria
2004 Supported charity auction at anniversary luncheon for Hong Kong Society of Accountants in England
2005 Established the fourth branches of Laurence Lai Gallery
2005 Received by "Excellent" quality mark from the Hong Kong Tourist Association
2006 Visited the mountains in Gansu Province in China with "Universal hopes" and shot children's lives in mountain areas
2006 Named the Caring Company for six consecutive years
2007 Named "Top Hong Kong photographer" by "Photography Magazine"
2008 Launched restaurant called "Small Dot Emperor" at the Peak Galleria
2009 Exhibited one hundred works at Australian Chamber of Commerce in Hong Kong
2010 Hosted exhibition "Project Hope" at the Hong Kong University of Science and Technology
2010 Appointed as director of environmental photography at Lions Club of Hong Kong
2011 Selected as the "52 Hong Kong contemporary photographers"
2012 Appointed as contract photographer with Hong Kong Observatory
2012 Nominated as the HK Ten Outstanding Young Persons (final 20)
2013 Featured at photography auction and anniversary meal at St. Andrew Church of the ball under Laurence Lai Building Fund
2013 Appointed as photography consultant for "Hope Worldwide" and "cloud action"
2013 Created project named "My City" and featured at Central Cawah Art Gallery
2013 Initiated charity project "Recycling used camera" and interviewed by Cable Television interview
2013 Featured on ATV "I am most impressed people" programs
2014 Featured on TVB program "Scoop" interview titled "Laurence Mentality of Doing the Business of Photography Galleries"
2014 Appointed as President of Hong Kong MBA Toastmasters 2014-15
2014 Appointed as Gitzo (French Brand) Tripod's Greater China and Hong Kong spokesperson
2014 Appointed as spokesperson of Pentax 645Z, a Japanese medium format professional digital camera by Jebsen
2014 Launched Laurence Lai Gallery headquarters at the Central Star Ferry Pier