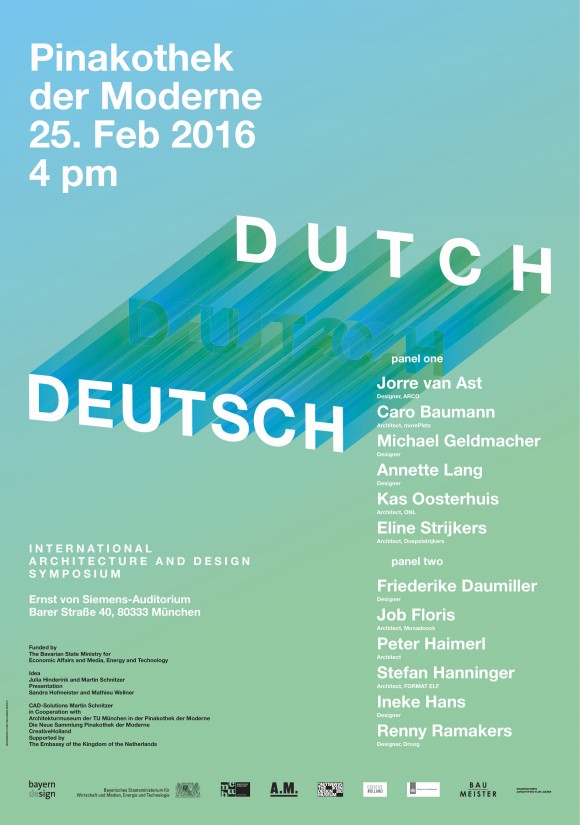 Renny Ramakers, co-founder of Droog, will be taking part in a major
international Architecture and Design Symposium in Munich, Germany on the
25th of February, 2015 from 16.00 – 20.00.
*About the Symposium:*
As a partner country of MCBW, The Netherlands is the most innovative and
important location for design in Europe. The Symposium "DeUTsCH" will look
at the differences, similarities and potential synergies of the Netherlands
and Germany with regard to architecture and design.
During two panel sessions three Designer and three Architects from each
country will discuss the following questions:
Does Design and Architecure align differently in the Netherlands than in
Germany?
What are the diverse approaches of a designer and an architect?
How different or similar are they dealing with material and scale?
Where does architecture and design meet?
Read more on the program here:
http://www.mcbw.de/mcbw-2016/programm/liste/detailseite/event/deutsch.html
*Event details:*
When: Thu, 25.02.2016
16:00 – 20:30
Where: Pinakothek der Moderne | Ernst von Siemens-Auditorium
Barer Str. 40
80333 München
The event is in English.