All in one carpet from Gafsa region (Tunisia) at Hôtel Droog
Droog presents in partnership with United Nations Industrial Development Organization (UNIDO), SeeMe and Studio Droog the "All in one carpet – Gafsa region". This special edition of carpets in various sizes and patterns was designed and executed in Tunisia by four artisans from Gafsa region, one of the most ancient but yet least developed region in the country, and a nesting place for the Jasmine revolution. The carpets will be exhibited at Hôtel Droog in Amsterdam from May 16 – June 30, 2013.
Studio Droog introduced one of their design concepts 'The All in One carpet' as an open format for the four artisans involved. The format, served as an "open yet unifying umbrella" combining local design and execution in diverse styles and techniques. Instead of imposing  externally designed patterns, Droog's approach served as inspiration and guidance, leaving each artisan free to design and execute sections in his or her own style and technique.
The outcome is a family of nine carpets summing up to 20 m2 whose product development process created stronger ties amongst the artisans, reframing historical patterns and techniques in a contemporary context. The exhibition also features other carpets designed by the artisans after the workshop with Studio Droog.
The carpets act as a structure for cooperation revitalizing the region's ancient glory. Traces of patterns used in the Gafsa carpets go back 15,000 years to the Capsian civilisation. Paul Klee saw in them the first expression of cubism and, during the centuries, they have been influencing many more artists such as Kandinsky and Macke.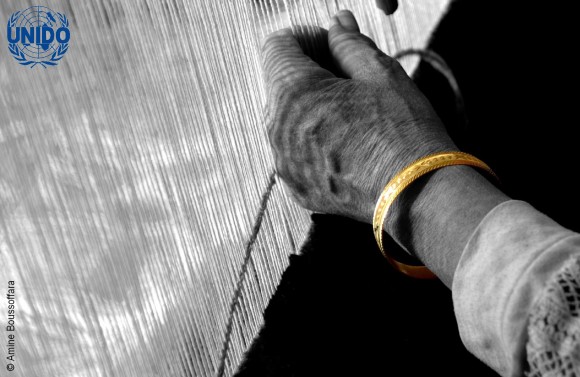 The project is part of a multi-agency programme in Tunisia funded by the Spanish funds for achieving the Millennium Development Goals (MDG-F), and implemented by UNIDO with the aim of helping achieving full employment for Tunisian youth. The project intervenes along the entire regional value chain of the carpet production, through a series of interventions to ameliorate the soft and hard skills of the artisans while improving their livelihoods, increasing their productive capacity and granting access to new markets.
Fair Design has framed the partnership. Introduced by SeeMe, further explored by Studio Droog, and endorsed by UNIDO, Fair Design advocates for the development of design products that uses local skills and knowledge for promoting sustainable socio and economic growth.