Droog draws from the life of Vincent for the Van Gogh Museum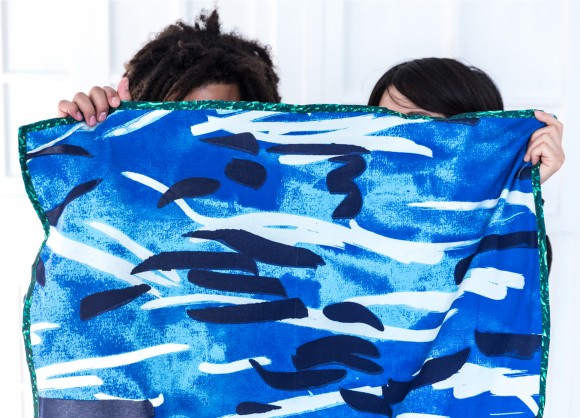 The canvases have turned. The technicolour life of Vincent van Gogh inspires contemporary tableware,
travelware and graphic designs by Studio Droog for the Van Gogh Museum in Amsterdam.
Vincent Willem van Gogh was not only a brilliant painter, but also a keen traveler and writer. For Van Gogh
Museum's new museum shop in Amsterdam, Studio Droog was asked to design a range of products based
on Van Gogh's artworks: Landscape with Houses, 1890 and Wheatfield under Thunderclouds, 1890. Looking
beyond the surface of these paintings, Studio Droog dove into the rich, fickle life of the artist, giving rise to
an eclectic collection of over 20 unique tableware, travelware, postcards and poster designs that echo his
life and art.
• Travelware based on Wheatfield under Thunderclouds, 1890 by Vincent van Gogh.
The travelware collection references the work Wheatfield under Thunderclouds, 1890 and appeals to Van
Gogh's frequent globetrotting – even though he often became homesick. The range derives its playful
pattern from the artwork's staccato brush-work and bold, bright colours – with each design heralding a
signature Droog twist.
The collection includes a toiletry bag that fits your entire life's work of grooming; an eyemask that blocks
not only eyes but ears too; a scarf that works double-shift as a blanket; an unmissable luggage belt; a
foldable weekend bag – also possible to use on weekdays; and a wallet to keep not only cash, but priceless
memories too.
• Tableware based on Landscape with Houses, 1890 by Vincent van Gogh.
The blue blush of Van Gogh's Landscape with Houses defines the ceramic and glassware collection designed
by Studio Droog. By deconstructing the image into layers, and editing them into individual patterns, Studio
Droog cleverly harnessed the signature linework of Van Gogh to create new patterns that can be played
with.
Translucent glass plates of various sketched patterning can be stacked to recreate the original painting;
glass and ceramic tumblers don dancing strokes and lines – as if doodled by Van Gogh himself; patterned
bowls and vases make masterpieces of your food and flowers; and tealights cast shadows of an impressionist
painter's mark.
• Posters and postcards of words and images by Vincent van Gogh (soon to be released)
Van Gogh wrote regularly to his brother Theo. Within these writings lay a wealth of wisdom, that Studio Droog
translated into quotes for a series of postcards. And these wisdoms could have only stemmed from his love
of reading – where Studio Droog designed a stylized bookshelf of Van Gogh's actual reading list in the form
of a poster.
About Studio Droog
Renny Ramakers founded Studio Droog in 2011. The studio creates concepts, spaces and products, all
based on our key principles: respect for the existing, context/relevance, beauty and playfulness. Distilled to
the simple idea of less+ more. The studio addresses client commissions as well as in house assignments. For
more information, please visit www.droog.com.
About the Van Gogh Museum Amsterdam
The Van Gogh Museum makes the life and work of Vincent van Gogh and the art of his time accessible to
as many people as possible. The museum's collection features in excess of 200 paintings, 500 drawings and
almost all letters by Vincent van Gogh, alongside his collection of Japanese prints. The library is home to
more than 23,000 volumes. In 2014, the museum welcomed 1.6 million visitors through its doors.
The Van Gogh Museum is dedicated to making the life and work of Vincent van Gogh accessible to as
many people as possible in order to enrich and inspire them. We unite all elements of Van Gogh's world.
Location
Paulus Potterstraat 7
1071 CX Amsterdam
The new museum shop is located in the new entrance building of the Van Gogh Museum in Amsterdam.
Opening Hours
Open daily from 9 am to 5 pm and until 10 pm on Fridays.
The shop is only accessible for museum visitors, and is open daily from 9 a.m. until 30 minutes after closing
time of the museum.