Splendor in the Grass – Droog's Kinesthetic Camping Ground sets the Museum of Sex on fire!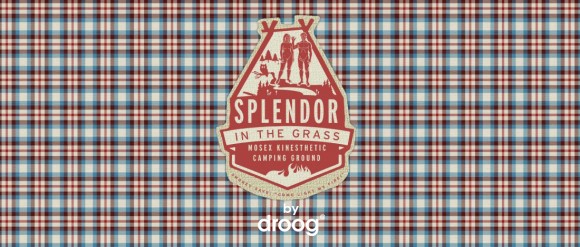 Droog presents their experiential sensorium Splendor in the Grass, produced under commission for the New York Museum of Sex's  Kinesthesia award.
Flirting with the complexities of sexuality, the installation transforms the Museum into an immersive 'erotic camping ground'. The work intoxicates and activates visitors' visual, auditory and kinesthetic senses through the symphony of five interactive tents.
A surreal adult-playground invites guests to connect with the various phases of human sexuality. The tents are designed around our visceral relationship with nature and eroticism – ranging from a girl made from grass whispering in your ear; an ice-oven tent that warms as your basal body temperature rises; enticingly tactile gloryholes; to a steamy cloud-chamber filled with the fever of scent.
Edith Gruson of Droog explains the concept of the installation, "..here you will experience feelings which are intensified by memories of your body and nature. How does it feel to walk through wet grass, the water embracing your body…the sensation of warm and cool on your skin."
The five camping tents are designed to seduce curiosity, prompting visitors to explore the exotic thrill of arousal. Mark Snyder, Director of Exhibitions at the Museum of Sex explains; "Through our Kinesthesia Art Commission award we hope to push the boundaries of traditional Museum-going experiences and encourage patrons to appreciate physical art..expect to use your entire body when you visit Splendor in the Grass."
Whether the space harnesses movement or tactility, the physical or emotional, fantasy or reality – each contemporary bivouac will, in combination, weave together the diverse sum of sexuality.
About the Museum of Sex
The mission of the Museum of Sex (MoSex) is to preserve and present the history, evolution and cultural significance of human sexuality. Since opening in 2002, the museum has collaborated with world-renown cultural institutions, artists, and academics to create more than 20 exhibitions and three interactive programs that explore the best in current scholarship in the arts, sciences and humanities. From fine art to historical ephemera, its permanent collection is comprised of more than 15,000 sexually significant artifacts.
For more information, please visit www.museumofsex.com.
About Studio Droog
Renny Ramakers founded Studio Droog in 2011. The studio creates concepts, spaces and products, all based on our key principles: respect for the existing, context/relevance, beauty and playfulness. Distilled to the simple idea of less+ more. The studio addresses client commissions as well as in house assignments.
The studio is committed to deliver design with a strong identity. We believe that utility and relevance do not have to come at the expense of beauty and fantasy. Every design starts with a radical re-think of a particular subject or product. Each outcome is unique and tells a story of its own.Droog brings beauty, simplicity, relevance and playfulness to everything they do, distilling each project down to the simple idea of less+ more.
For more information, please visit www.droog.com.
Location
New York Museum of Sex
233 Fifth Avenue (at 27th Street),
New York City.
Opening Hours
The Museum is open 7 days a week:
Sunday to Thursday from 10:00am to 8:00pm;
Fridays and Saturdays from 10:00am to 9:00pm.
The official launch of the exhibition will be on the 25th of June, 2015 and will run for approximately one (1) year.
Tickets may be purchased at the ticket counter or online at the website.
Note to press
For more information please contact:
Museum of Sex: Lisa Hanock-Jasie at [email protected], or 212.689 6337 Ext. 125
Droog: Lara Mikocki at [email protected], or +31 (0)20 523 50 58.