now on show: SUBJECT TO CHANGE by SUPERFLUX
Translating future uncertainty into present day choices
Resurgent forests, multi-species banquets, solarpunk technologies: stories of hope amidst the climate crisis
Exhibition | 18 February – 10 April 2022
Download our large print guide: English version or Dutch version
Subject to Change is the first ever solo exhibition of London-based design studio Superflux. As a critically acclaimed, boundary-defying practice, Superflux confronts us with the complex and deeply interconnected nature of the challenges we face today. They invite us to remain open to a multitude of possibilities and navigate precarity with active hope. Their stories, films, objects, immersive installations and speculations craft new, optimistic, and enduring relationships with our planet, other species, technology, landscapes and each other.
Translating Future Uncertainty in Present Day Choices
Superflux's work has been described as 'powerful', 'stirring' and 'electrifying'. Now in its 13th year, Superflux has exhibited work at various international exhibitions, such as the 2021 Venice Architecture Biennale, National Museum of China, MoMA, V&A, La Biennale di Venezia, MAK Vienna, Vitra Design Museum, Science Gallery, KUNSTHAUS Graz and many more. Invited by Renny Ramakers, Superflux will take over Droog's gallery with a provocative new exhibition.
The Intersection
In their most recent work the Intersection they explore the idea of active hope to navigate a murky and fragmented near future. This short film's narrative arc revolves around four protagonists whose lives have been shaped by the dissonance of extractive technology norms, misinformation, surveillance capitalism, and context collapse. Moving away from a violent to a cooperative future, the protagonists and their communities find hope in craft, community and care.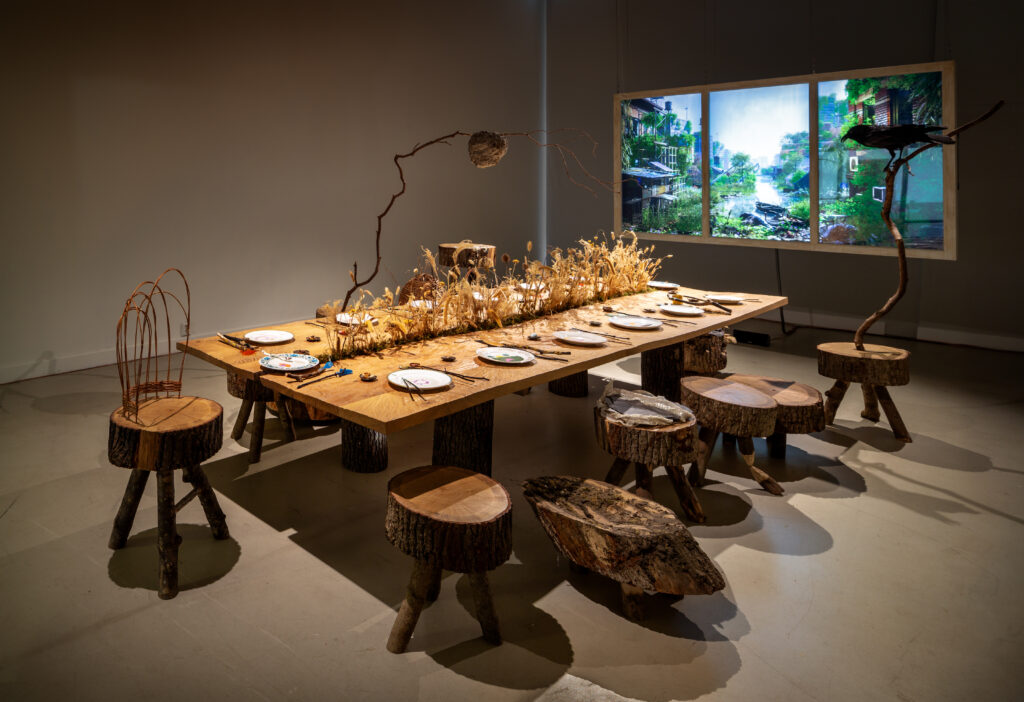 Refuge for Resurgence
The centrepiece of the exhibition Subject to Change is Refuge for Resurgence, a multispecies dining experience with animals, birds, plants and fungi: a magnificent four-metre-long table set for 14 guests: a snake, a beaver, a raven, a wasp, a mushroom, a fox, a wolf, a wild boar, an old cow, a rat and a pigeon and three humans.
"What does it mean to give every other animal we share the planet the same love, attention, and care we give each other? To do that we invite various different species to dine together with us (humans) as equals around this table"- Jon Ardern, Superflux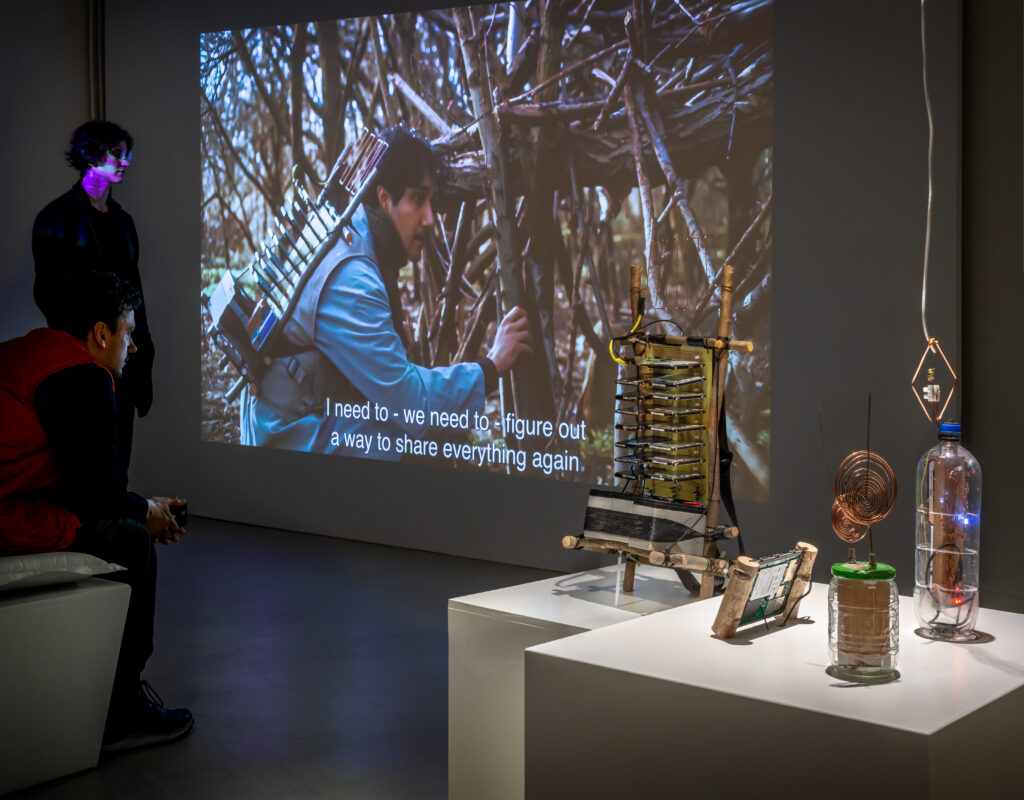 Superflux expresses their desire for a more-than-human future in a recently published manifesto: a shift from fixing to caring, from planning to gardening, from systems to assemblages, from innovation to resurgence, from independence to interdependence and from extinction to precarity.

And perhaps it is this perspective that connects Superflux's activities in the realms of culture, politics and technology with the climate crisis. By reframing humans in direct interdependence with other species, Refuge for Resurgence and Invocation For Hope challenge the long-standing histories of human exploitation and extraction. Quite simply, Superflux reworks the order of things.
@droog opening times:
mon – fri : 08:30 – 18:00
sat – sun : 11:00 – 18:00
Staalstraat 7-B, Amsterdam
free entrance