Save the date, mark your calendar or set an alarm… We're finally reopening! Celebrate with us and come to our happy reopening date on Wednesday the 26th of January and get your first coffee or tea for free on the house.
Download this voucher, show it to our staff on your phone, and enjoy you first brew back at @droog
The voucher is valid on Wednesday the 26th of January. from 8:30 – 12:00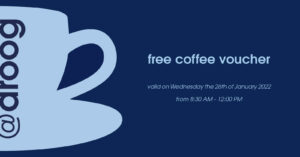 Good to know
Naturally, we're working hard to open our doors as safely as we can. Please have a look at our safety precautions below before your visit:
We are obliged to ask all our visitors to wear a face mask until they're seated in our restaurant.
Please show us your QR code upon entry
Make sure to make your reservation in advance.
See you soon for breakfast, lunch or borrels with bites @droog!