Thank you for participating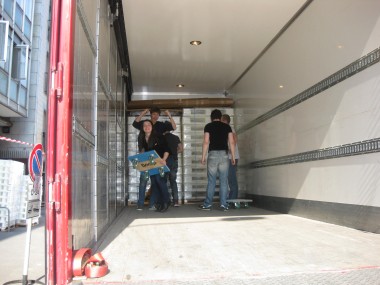 Thank you to everyone for coming and participating in 'saved by droog'–whether by reviving the leftovers we gathered, by becoming a new owner, or by engaging in the discussion as a member of the press. Special thank you also to Centraal Museum Utrecht for becoming a new owner of the entire collection of revived products.
In the next several days we will publish more new owners from the show in Milan. So if you don't see yourself posted yet, check back soon.
Also, look out for announcements about the next 'saved by droog.' pop up–for now we can tell you that it will be in New York!
In the meantime, here's what was said in the press:
Treehugger.com – "Now, these projects probably won't save our environmental crisis but they do make us think about the use of everyday objects, and make us treasure what seem even the most boring objects at first."
Core77 – "[…] one of the week's highlights."
T magazine (NY Times) – "It's impossible not to be charmed by the exhibition "Saved By Droog" […] Nearly everyone here at the furniture fair did more with less this year, but few so overtly made an asset of the crisis…"
Bloesem – "Saved by Droog …. or you could say 'Before and After' a trend that has been brought to a higher level in terms of design by Droog."
NY Times – "…the (unofficial prize) for the timeliest theme goes to Droog…"