New Material Award 2018 exhibition @droog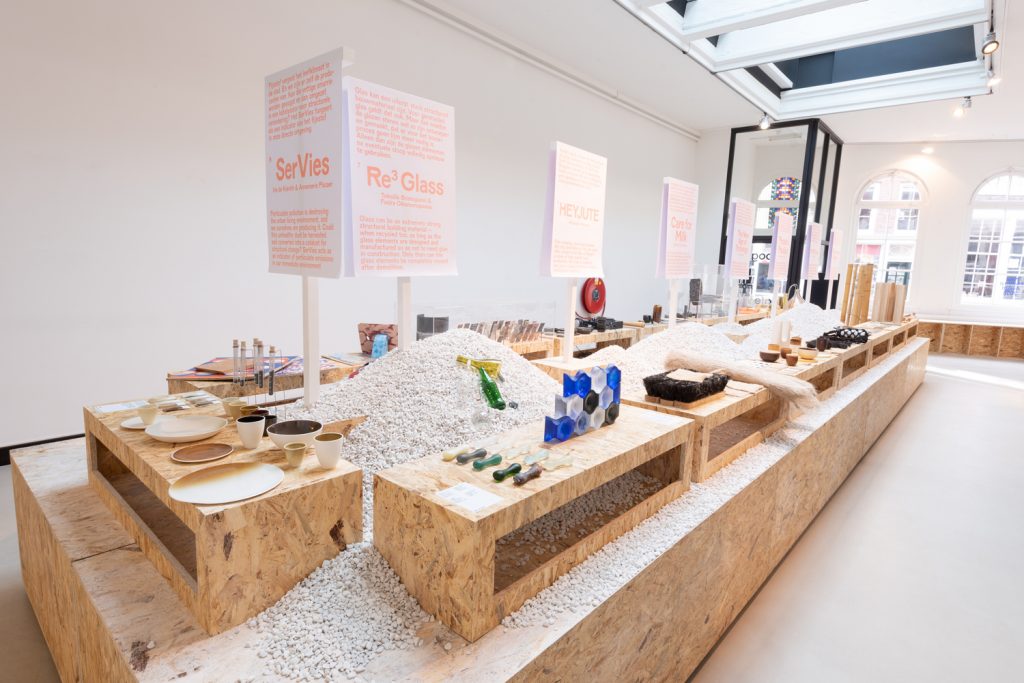 foto: Nieuwe Beelden Makers
New Material Award 2018 exhibition @droog from 30 October-2 December 2018

More and more designers are thinking about the effect of their designs in the circular chain from raw material to raw material. The role of the designer and design research are crucial in this. They contribute to a better and more sustainable society. The fifteen design and research projects nominated for the New Material Award 2018 are uncomfortable, confrontational, optimistic and visionary.

Material innovation encompasses much more than just the development of completely new materials. Generally, it revolves around a revaluation of raw materials, techniques, or residual products that are currently overlooked by industry as unsuitable for the intended purposes. This is done by exploring – without prejudice – new possibilities through research. From a loaded substance like animal blood, to bamboo that has been used for centuries; and from hair that we leave behind at the hairdresser, to waste glass that, according to established industries, would be impossible to reuse.
The fifteen nominated projects for the New Material Award 2018, including the winning projects 'Algae Lab Luma' and 'Blood related', are on display at Hôtel Droog from 30 October until 2 December 2018.

Museumnacht Amsterdam 2018
Hôtel Droog is one of the new locations for this years' edition of the Museumnacht Amsterdam. On Saturday 3 November, winners Eric Klarenbeek & Maartje Dros (Algae Lab Luma) and Basse Stittgen (Blood related), are present at Hôtel Droog to explain and demonstrate their projects. Nominated Designer Alexander Marinus developed a special make-your-own workshop, based on his project into the material of jute.
New Material Award
The New Material Award stimulates the development of sustainable materials through projects that provide smart solutions to the issues surrounding raw materials, energy and reuse – both in design and production.
This 7thedition of the biennial New Material Award is organized by the DOEN Foundation, the Kwadraat Fund and Het Nieuwe Instituut.
The fifteen nominated designers are:
Agne Kucerenkaite
Alexander Marinus
Daria Biryukova
Envisions
Inge Sluijs
Iris de Kievith & Annemarie Piscaer
Ekaterina Semenova
Overtreders W & bureau SLA
Sanne Visser
Shahar Livne
Studio Chris Kabel
Telesilla Bristogianni & Faidra Oikonomopoulou
Xandra van der Eijk
Or visit the website of the New Material Award.